I do not have Arcteryx pads so cannot comment on them but I have tried half a dozen types of skateboard pads and given up on all of them. Instead I went another way; either Crye trousers with the built in pads or divers' neoprene soft pads.
The scuba pads are designed to stop cave divers scuffing their wetsuit but I found that they could be worn under trousers, next to the skin. They were low profile, not too hot, never moved and offered the protection I needed. The disadvantage is they have no hard shell so they are padding rather than protection. I have never found this to be an issue even as an infantryman who spends a lot of his life kneeling and prone. In particular I liked that because they were under the trousers, they did not catch on things and get tugged down when crawling on rough ground. This may not be relevant to you.
They brand I like best is Beaver (snigger):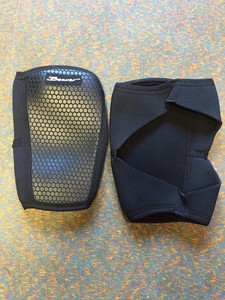 Which I buy online from diving shops. Not sure if they sell them state-side but I'm sure you could find something similar.