Federal Gold Medal Match 2 (175-grain Match King) is the commercial equivalent of USSOCOM 7.62mm Long Range Mark 316 Mod 0, used in the Mark 11 (SR-25) family as well as legacy 7.62mm bolt guns.
What are the differences?
Federal stamps the military headcase with "FC" and year of manufacture. Cases are not polished. Military packaging (plastic ten-round holders in plain brown box).
They are made with the same components on the same machines and lines. The charge is 41.7 grains of IMR 4064.
If I didn't load my own I'd buy it (or Black Hills, ADI, or IMI).
Why does SOCOM buy this specifically when they can also get M118 Long Range?
Lake City's M118 Long Range production began to suffer the same problems they had making M852 Match. As M852 tooling started wearing out and the ammo no longer held match standard the Army re-labeled certain lots as "M118 Special Ball." Special Ball meant it no longer held Army-specified Match precision. Since "Long Range" isn't the "Match" standard they could get away with producing "Lake Shitty." Special Ball for Special Olympics?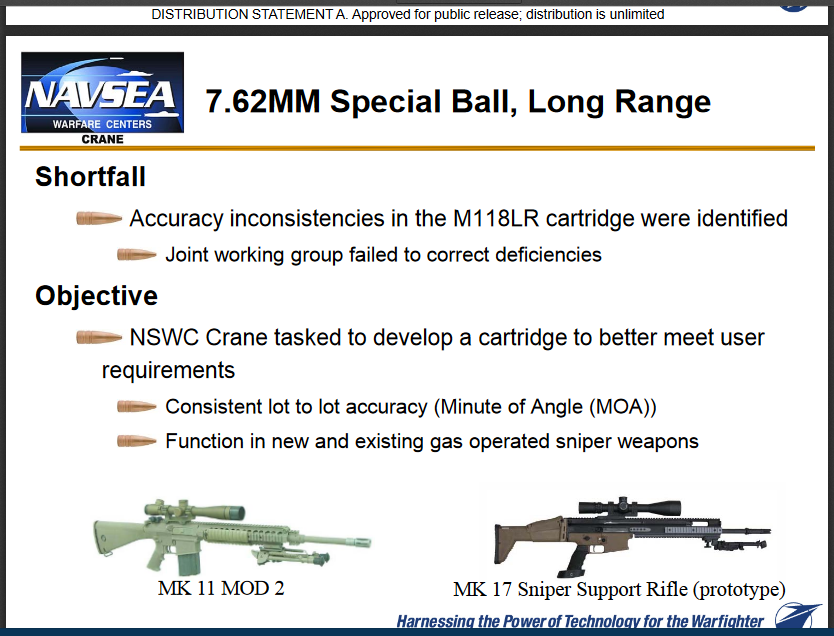 US Army Special Operations Command, using Mark 11 self-loaders, already take a slight precision hit with 20- and 16-inch barrels but could not get the Army to tighten up production, so they spec their own ammo. Voila, Mark 318 is born to the old Army Match standard.
M118 Long Range is produced by the Army at Lake City Army Ammunition Plant. Mark 316 is made in Minnesota by Federal. Mark 316 quality-assurance is verified by government inspectors. SOCOM dollars buy SOCOM ammo for SOCOM, not the rest of the big, plodding Army.
The 175 was introduced in 1999 so that 22-inch Navy Rifle Team M14 barrels could keep the bullet supersonic at 1,000 yards for the Palma and Leech Cup Matches at Camp Perry. New Sierra 180-grain Match Kings have a re-designed ogive and boat-tail and could no longer get there consistently and precisely.
The Marines used a "G4" load of "A double ass-load" of 4064 or 4895 behind a 168 Match King. The round would fire, but the gas system was so over-loaded that you had to pull back on the op rod like a bolt gun, and the brass was wrecked with one firing.
The 175 needs 2550 fps at the muzzle to stay stable to 1,000. The USAMU has gone to the Berger 180 Juggernaut in a 20-inch AR-10.
Once I fire the round I'll anneal, re-size, dry-tumble, then wet-tumble 'til they come out like gold. The cases may have been rejected as service ammo for water spots or tarnishing.