OTG Tactical conducted a three day Patrol Rifle class at the Mount Juliet Police Department range located in Mount Juliet, TN. This class is designed for law enforcement operation of a patrol rifle. The students ran the gambit from regular earth folks, investigators, reserve officers, and full time officers from both rural and urban AOs. Don't be fooled, the civilians in the class were _shooters_ and I wouldn't want to face any of them in a gun fight. Duke made a cameo on TD1 and it was a real honor to meet someone I've "internet known" for years. The range was narrow but plenty long enough to accommodate shooting at police distances.
"A standard accepted is a standard achieved".
We've all heard "speed is fine, accuracy is final." A large agency in the U.S. has had two recent OIS on low percentage targets with bad consequences. Students were expected to maintain high levels of accuracy despite the course of fire which really helped push everyone on their skills.
Gear:
BCM 11.5" upper with an Aimpoint T2. I ran a new belt setup from Pekan with an Esstac reload and ALS holster. I don't recall any gun issues from any of the students. I think its fair to say the gospel of a wet gun has finally made the rounds.
WX:
1: 60s, overcast.
2: 70s, overcast.
3: 80s and sunny.
We were all blessed with better than average temperatures and humidity than is customary for Middle Tennessee this time of year which helped the students stay plugged in.
TD1 began in the classroom with a lecture about the history of rifles in law enforcement, the modern patrol rifle, and mindset. The mindset lecture was great for me personally. I've recently succumbed to some less than stelar thinking due to local considerations and it was helpful to discuss that amongst peers and get some perspective on things. Rifle nomenclature, different zeroes and their merits were also discussed.
Once we hit the range we began with a med/safety brief followed by the BZO. After everyone was comfortable with zeroes we immediately went into a diagnostic 400 point aggregate without time hacks. This drill was awesome as it tests everyone's ability at balancing speed and accuracy from distance and up close.
After the diagnostic we began instruction on the loading procedure, stance, ready positions, and reloads. The instruction was validated with the OTG Milestone drill followed by another 400 point aggregate. The day ended with a quick debrief.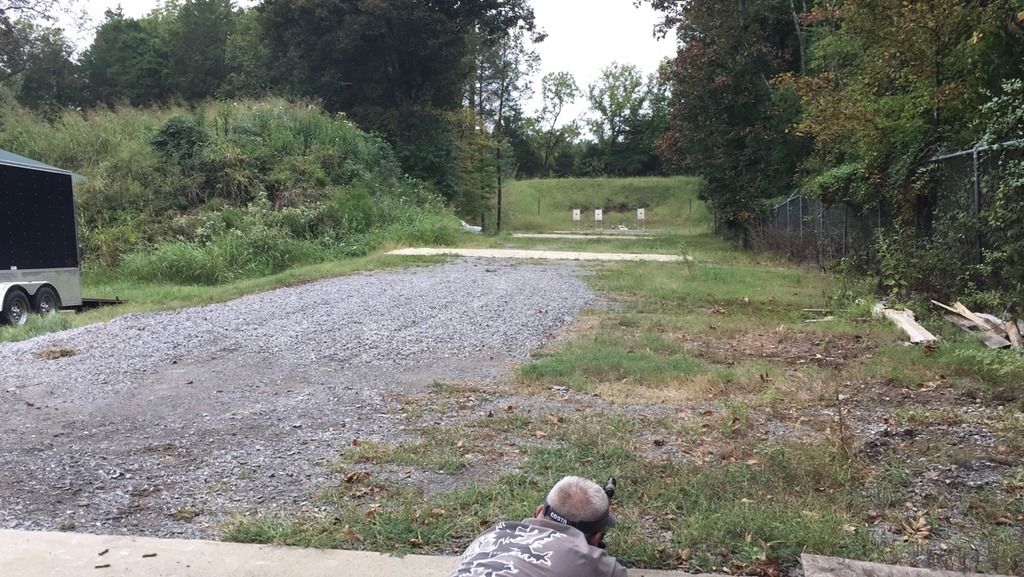 A student on, your friend, the B8.
TD2 began in the classroom with a quick discussion from the students regarding anything that came up while digesting the previous day's training. Bill lectured on ballistics / support gear selection and then we hit the range.
A personal note: 9/11 and people like those in the room on TD2 are why I chose the path I did. I feel humbled and can't think of a more fitting way to have spent the day than training with them.
Once on the range we confirmed zeros. After confirmation we again shot the 400 point aggregate with times being announced but not enforced. I think everyone saw their scores dip as the we tried to speed up and the stress began to impact us.
Instruction began with types of malfunctions and their reduction. As usual, Push/Pull reared its ugly head at least once but learning eventually occurred. After a quick lunch we drilled clearing all three types of malfunctions. The wheels fell off for me on this drill because I didn't work the malfunctions methodically. After malfunctions we moved on to cadence shooting with a 1-5 drill and a little competition between students to press each other. Instruction continued by incorporating movement. We practiced shooting on the move and utilizing a "catch step" to quickly decelerate and get into a firing position. Traditional stable and asymmetrical shooting positions were demo'ed and drilled on steel for validation. This was especially helpful because quickly and efficiently getting into position on a drill or in a violent encounter is paramount. After a quick debrief we wrapped for the day.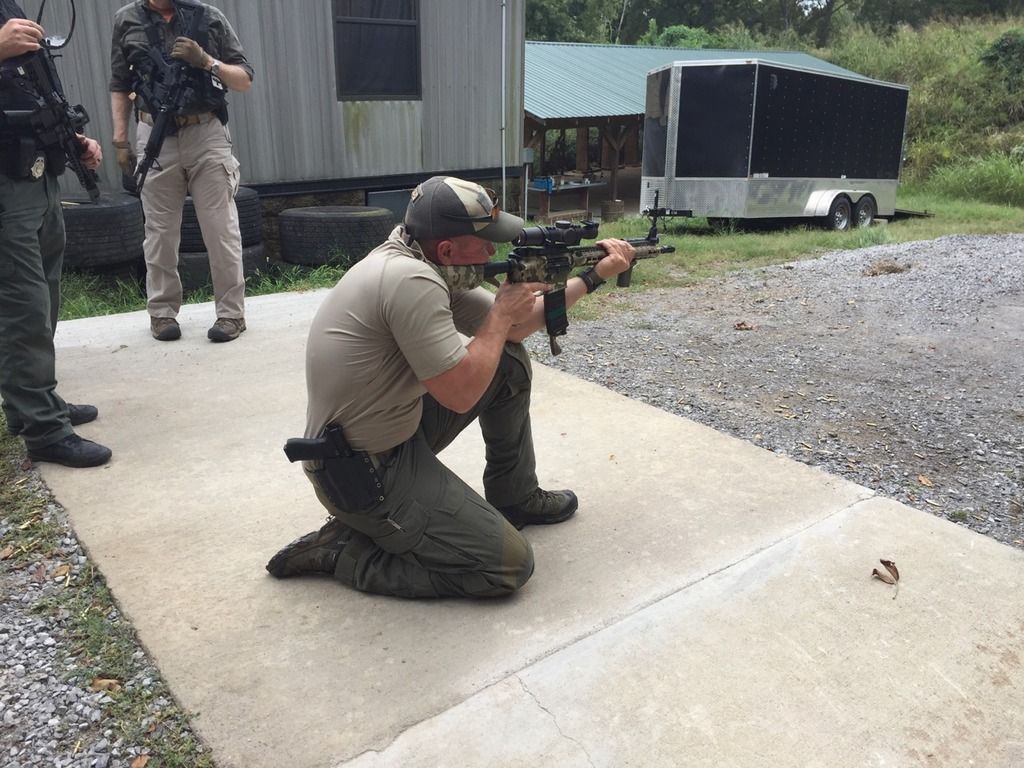 Troy demonstrates kneeling.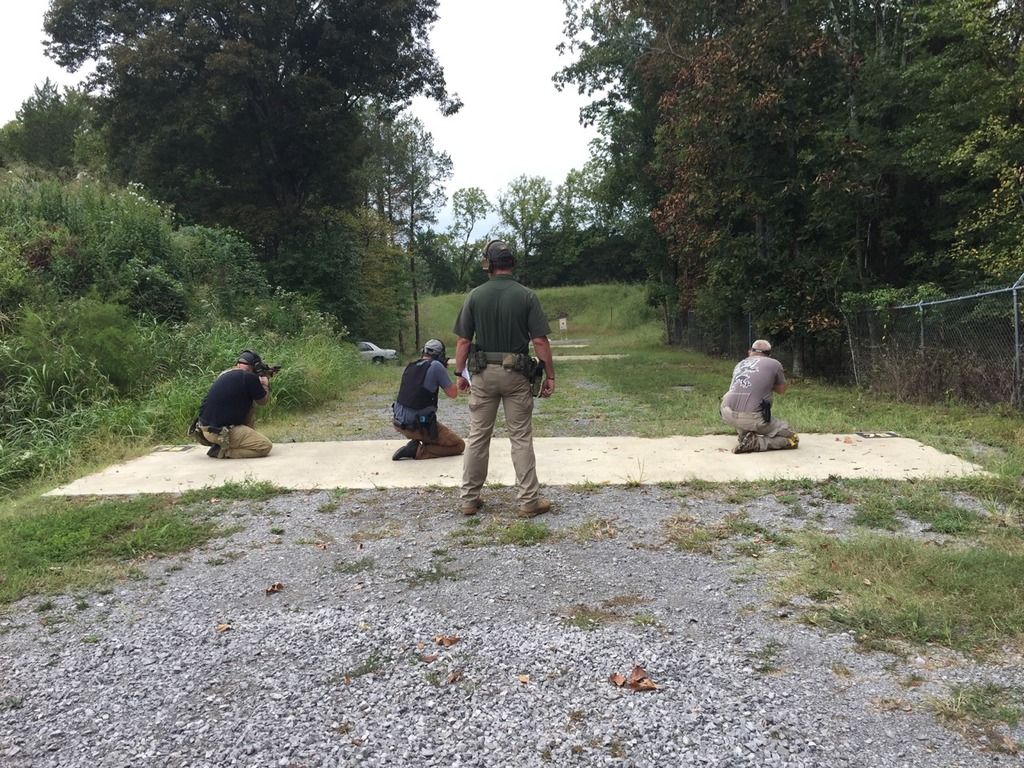 Students kneeling from the 75.
TD3 began with a little discussion and then immediately onto the range for BZO confirmation and drills. TD3 was all about employment of the skills that had previously been taught. I definitely would have earned a moose cock for my performance on the first drill due to eating the gravel and managing to have not one but two dummy rounds end up in my magazine. Lesson? 1) Don't trip 2) Don't load dummy rounds 3) You have TIME. Despite the screw ups I was able to clear the gun, drive on, and meet the time hack.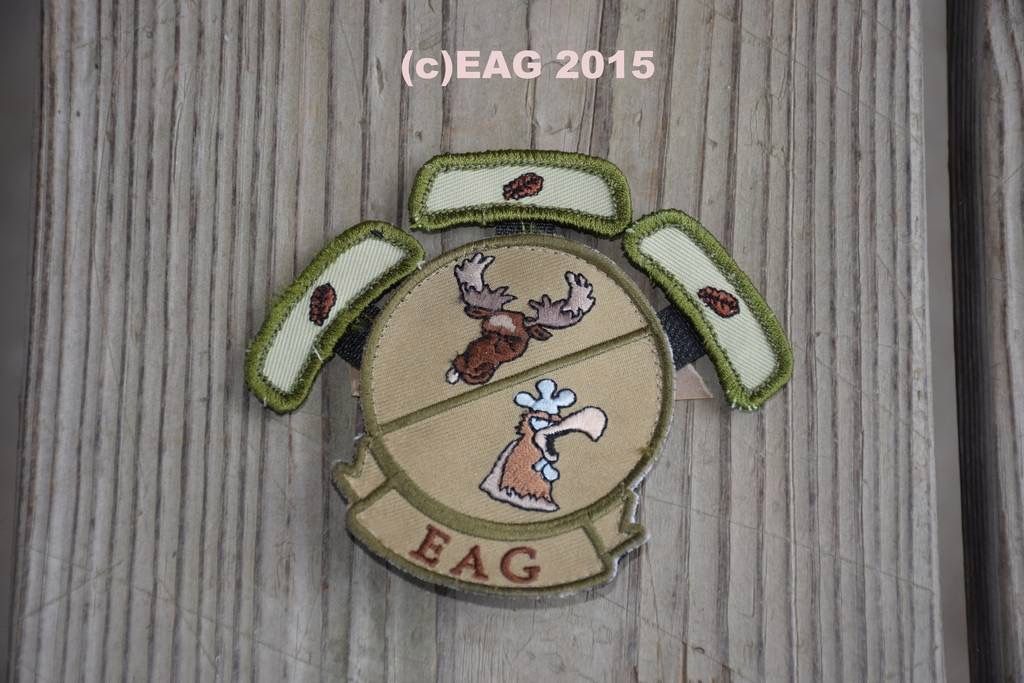 Hommage.
Overall impressions: The class was great. It was challenging and not your run-of-the-mill "intro to the carbine" class. The students were all competent which helped everything move at a good pace and get more accomplished. The drills were tough and it helped me analyze weaknesses in my own shooting so that I can work on them. I feel more prepared and look forward to the next time training with OTG.