Redback One conducted its two-day Advanced Weapons Manipulation clinic about three months ago (yeah, yeah, I know) at a discrete law enforcement range in King County, Wash. It was a closed course with about a dozen students, which included federal agents, local tactical officers and Air Force TACP specialists.
The course focuses on improving carbine and pistol skills for Close Quarters Battle (CQB). Close quarters is the most difficult environment to work in, according to RB1's Director of Training Jason Falla, a 12-year veteran of Australian SASR.
Things quickly get complicated in small rooms, especially in the dark and when rescuing hostages, noted Jason, who led both days of instruction. Swiftly and efficiently disrupting the target is critical, so Jason tested us frequently throughout the course.
As you might imagine, two days offers a lot of time for testing. And all of the tests are timed.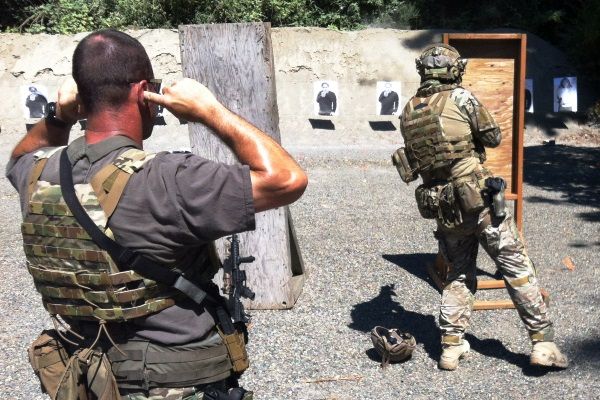 WX
Weather was sunny both days, with the temperature peaking at 90°F (32°C). Hydrating was key, and so was sunscreen. Tap-Rack Tactical Actual (a.k.a. Bill Blowers; a.k.a. Lightfighter's 45&223) got ferociously sunburned, but the red neck suited him (see right).
Guns and Gear
Lots of different guys ran lots of different guns. Optics were Aimpoint, EOTech and Trijicon. My LWRC IC-Enhanced ran beautifully -- but, man, that left-handed magazine release is sensitive! I dig the serenely simple Proctor Sling. And my Surefire MINI was so quiet that Jason's timer had trouble picking up my shots.
But most important for these two days was probably the WXP Hydration System 2L reservoir on my plate carrier. Each day I drank down both liters way before quittin' time. Luckily I had other water bottles waiting in the wings.
My old Arc'teryx combat shirt (see left) was fantastic, thanks to its pit zips. The air wasn't cool that day, but the breezes under my arms sure felt that way!
And rivaling the Crye Precision G3 Combat Pant as my favorite, the Triple Aught Design Force 10 RS Cargo Pant is just as comfortable, almost as mobile and far more discrete -- even with the 3L+ T-Pro Pads. Plus the two front hand pockets are in a better position to carry folding knives and flashlights under a belt-mounted pistol at 3 or 9 o'clock.
Still tried and true was my First Spear Strandhögg SAPI Cut Plate Carrier, which I love. But I've replaced the uncomfortable -- and shifty -- shoulder pads with LBT Removable Shoulder Pads; I'm a big fan of those!
The HSGI TACO is still my go-to magazine pouch because, among other things, it's good for tactical reloads -- the mag stuffs right back into the pouch. But a timed test against guys using dump pouches left me in the dust. So I'm thinking of adding a dump pouch directly under my front plate, below the mag pouches, which seems to work well for Jason (see below right).
Class Mix
Most important: Everyone was safe. It was a fun group; nobody passed out from the heat; and everyone seemed to work well together.
A few of the TACP guys seemed to be new to that duty, so not all of them were particularly familiar with speedy employment of carbines and pistols. But all of the LEOs were switched on like Donkey Kong the entire time.
Plan of the Day
TD1: We jumped right in with the Operator Readiness Test, which -- you guessed it -- was timed. The test is no joke, but Jason and Bill went the extra mile by shooting this bad boy wearing a gasmask.
Side Note: I love starting courses cold because real life doesn't give you an opportunity to warm up. That's why you've got to start strong.
"The first shot in a gunfight is a game-changer," Jason said. So you want it to be a good one, as opposed to a flesh wound that gives your opponent a chance to counter. "It's like a punch to the arm instead of one to the jaw."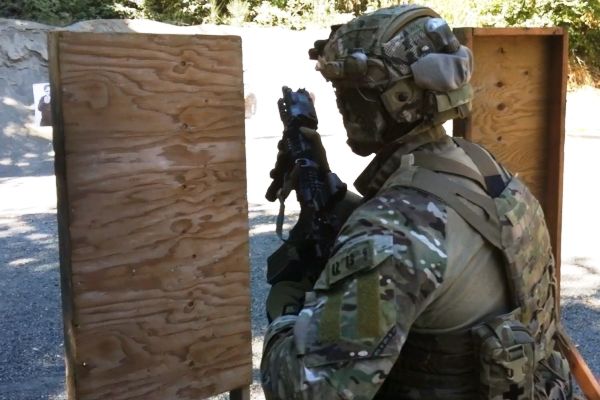 We spent much of the course shooting from the often maligned high-ready position (see left), which I first used as a Navy SWCC. The high-ready scares a lot of shooters, but I think it's because they don't understand it. Jason championed the position's many uses, such as fighting, nonverbal communications and situational awareness.
Something else I agree with Jason on: If your carbine stops functioning at close quarters -- it never matters why -- always transition to your pistol. You can change the mag or fix the malfunction later.
"Stoppage!" is something handy that Jason advocates saying when you've got a dead trigger. It cues the transition -- and helps prevent brain farts of the variety that I had: I'd gotten so focused on running the carbine during one drill that I failed to transition, conducting an emergency reload instead (cue palm to forehead).
Fun Fact: Transitions are often necessary because enemy fire has disabled the carbine, according to Jason.
But in that fateful space between carbine-in-hand and pistol-in-hand, your opponent may rush you. Your transition shouldn't take longer than two seconds, but an adversary can often close a 21-foot (five-meter) distance before you can present your pistol.
Within that integrated combat range, blade your support side toward the rushing attacker while turning your weapon side away (see right). Dominate the opponent's throat with your support hand while keeping your weapon (pistol, knife, etc.) in the fight -- and taking your adversary out of the fight.
The next drill we shot focused on better developing our sense of time by shooting six rounds in six seconds. Running too slow is advantageous for the opponent, but running too fast can lead to trigger stall. So Jason advocates never shooting at your limits in combat; rather always keep 10 percent in reserve.
"We have to run the gun without the gun running us," Jason said. "Put the bullets where they will disadvantage the bad guy."
TD1 ended with what we commonly call malfunction drills (failure to extract, double feed, bolt override, etc.), but Jason prefers to call these incidents stoppages.
"Guns don't malfunction," Jason said. "They stop working."
TD2: We started TD2 with a heaping helping of drills. The goal was to shoot everything under the par time and with absolutely no misses. Distances, targets and number of rounds changed with each drill -- but they were all timed.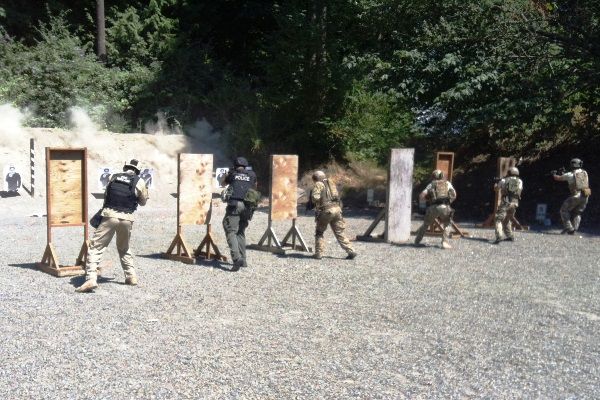 You can leave this class as I did: with a lot of data to help measure you improvement. It's very similar to leaving one of Bill's Tap-Rack courses.
The lesson on shooting from behind barricades (see left) included a discussion of different building types, as well as cover and concealment. We mainly focused on (1) staying squared to the target even behind cover, (2) keeping the proper foot forward when shooting around cover and (3) bending at the waist to minimize the target that you present to your opponent.
Barricade shooting continued with bilateral shooting drills, switching from dominant-side to support-side shooting. Things got really fun when we started to clear stoppages from on our support side -- after having dispatched all threats with our pistols, of course.
When reacting to threats on your left or right (following John Boyd's OODA loop), Jason recommends pivoting on the balls of your feet. Confront threats behind you by thrusting your carbine's stock under your weapon-side arm and using the momentum to pivot, ending up in an athletic and dominant stance.
We ended our range time the same way we began it on TD1: with the Operator Readiness Test. I'll say more about that at the end of Lessons Learned.
Lessons Learned
Be deadly with what you have. Jason looks at the carbine as a big pistol, and he sees the pistol as a small carbine. The only major differences between an AR and a Glock are the safety and bolt catches. So you can run them -- and fix their stoppages -- in about the same ways. Your primary weapon is whatever you've got: carbine, pistol, knife or just your hands.
Instead of a "workspace" or "shooter's box," Jason goes "palm up" to change a magazine or fix a stoppage (see right -- note the gasmask). And it makes more sense: Putting your weapon hand palm up in front of your face positions the weapon where it needs to be for you to both fix your gun and keep your eyes on the battlefield.
This course finally broke me out of my pre-optic, iron-sight-only mentality of running my stock far back. My optic is far forward on my carbine, and my stock is now all the way forward on the buffer tube. It's a better balance for the gun anyway.
The bilateral shooting technique that RB1 and Tap-Rack Tactical advocate has converted me from the shoulder bump. But that's required changes to my shooting and to my carbine to make my light and lasers accessible from both sides. So far, so good.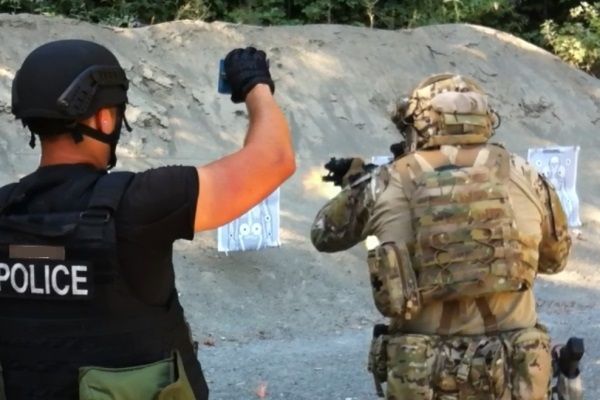 This course rekindled my love of high-ready position. It makes a lot of instructors nervous, and some ranges, shoothouses and instructors forbid it. But as I've mentioned before on Lightfighter, there's a time and place for both high-ready and low-ready positions.
And finally, there's timing (see left). My times on the TD2 Operator Readiness Test weren't quite as good as they were at the start of TD1. That really ticked me off -- until I realized that my accuracy had improved!
Accuracy is final. Now I've just got to work on getting that time down.
"That's the great thing about shooting," Jason said at the end of the course, "you can always improve."
My other AARs include:
Tap-Rack Tactical's Tactical Pistol Course, Kent, Wash. 21-22 April 2014
LMS Defense Carbine Course, King County, Wash. 17 Dec 2013