For three decades, Remington 870's have been my go to shotguns--typically using 18" or shorter cylinder barrels for duty/work use and 24" or longer choked barrels for sporting/game purposes. In the past few months I've begun to play with Beretta 1301's. Below is a comparison of work and game 870's compared with similarly configured 1301's.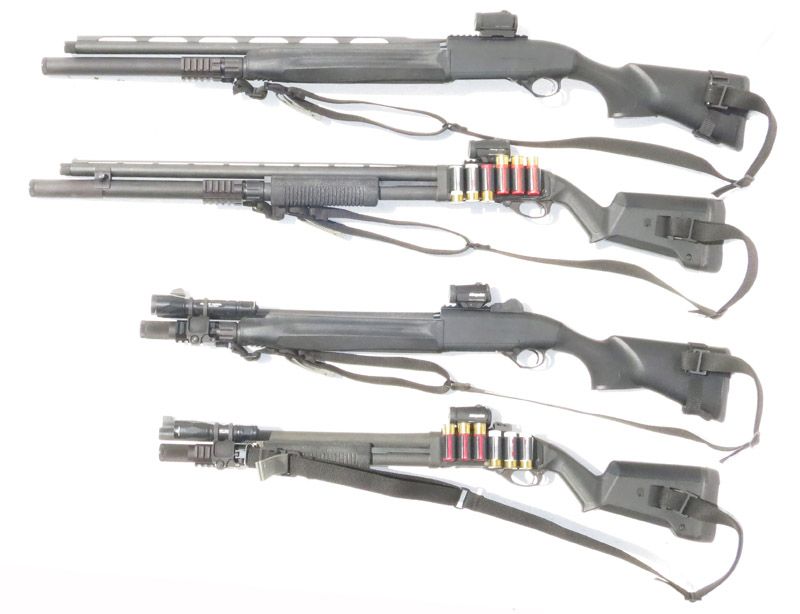 Each gun sports Briley magazine tube extensions with the Picatinny rail and sling swivel options, allowing mounting of a light and a convenient sling attachment point. In addition, each has BFG VCAS 2 point sling, Aimpoint H1 RDS, and uses SF EAG Fury lights in LaRue mounts.

Keep in mind that the 1301 Tactical has an 18" barrel w/3" chamber, ghost ring sights, 3" length receiver, and comes with the Pic Rail installed, while 1301 Comps have 21" or 24" barrels w/3" chambers, vent rib and bead sights, 3.5" length receiver (bigger loading port), receiver is drilled for pic rail but it is not included ($65 option from Beretta). The 1301's are softer shooting than the Benelli M1/M2, but not quite as soft as the Remington Versamax--however the Beretta is substantially lighter than the Versamax and is much quicker on target. The VersaMax has a larger loading port, but the Remington lifter often needs some work to rapidly load well; the Beretta loads fine out of the box.

Both the 1301 Comp and the 1301 Tactical have 5 round magazines, but a variety of vendors make magazine extensions. I recommend the 1301 Tactical for a shotgun that is going to be carried a lot and primarily shot defensively using buckshot and slugs; the larger loading port on the 1301 Comp makes it much better for a shotgun that is going to get run hard and needs to be reloaded rapidly. The 1301 Tactical has a fixed cylinder choke, while the 1301 Comp's use the Beretta Optima HP Chokes, providing more versatility for sporting purposes--I tend to run extended Briley "light modified" chokes on my game guns, as this works adequately for everything from birdshot to slugs.

Below is a comparison of similarly configured 1301's, including the 24" barrel Comp, 21" barrel Comp, and 18" barrel Tactical.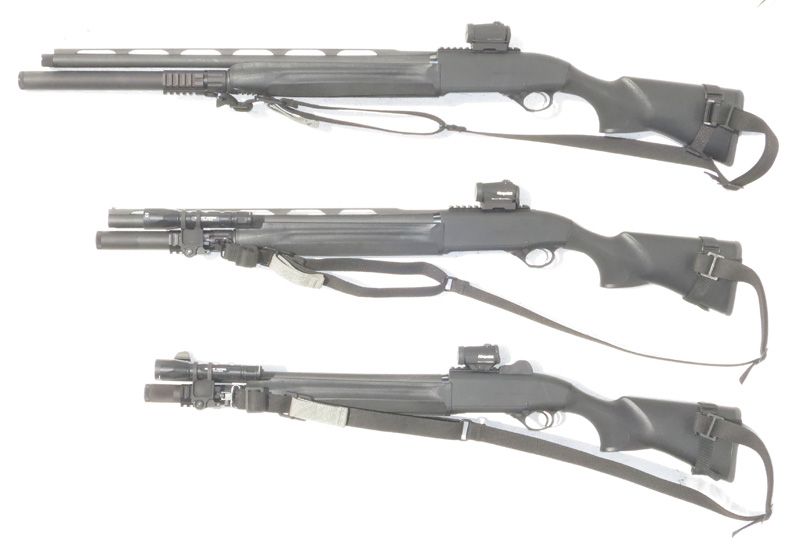 Note that since the 1301's have very long forends, I use the 3 cel EAG Fury lights in order to move the push button a bit further back to ease activation, plus what is not to like about 1000 lumens! A better solution will be for Beretta to design a forend with built in attachment rails. Each 1301 also has a Wilderness Products rear sling adapter.