I thought I'd throw together a comparison review of two chest rigs I own. They are both examples of the minimalist philosophy and show what you can do with a simple rig which can be mounted high chest or low midriff. Because I used the depicted AK-47 vest in Afghanistan during early 2002, I was intrigued when SPEC.-OPS. introduced their 5.56 based MOUT Rig version. Remembering the things I liked about the cotton canvas Chinese rig, I bought the MOUT rig on impulse just to see if I could improve my old load out and still apply KISS (Keep It Simple Stupid).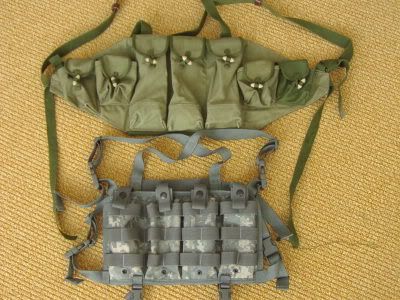 Chest rigs have their places. One of those places is when you are spending a hell of a lot of time riding in vehicles. Another is a soft environment (like parts of Balkans or Africa) where everyone around you is not going full kit or you need to carry a low profile or concealed fighting load. They are also useful if you are going to be wearing full plate armor but want to minimize the gear mounted to the carrier. They are difficult to overload because you will run out of space before you can duplicate the full load of an assault vest or plate rig. I can get more stuff onto my MAV (and the MAV is more useful), but the small chest rigs have their appeal.
I also believe that they excel at carrying your extra ammo and additional blowout kit. A lot of folks spend a lot of time max-packing bailout bags for every contingency and wind up with something so bulky that it can't be stowed handily for easy grab and go. Wherever I'm going to carry a second basic load, it might as well be already rigged for wear or loose-carry handoff to a buddy. I think that's more useful than just a bandolier.
Anyway, review follows...
1. Chinese Manufactured AK-47 Chest Pouch:
I cabbaged this item while in Kabul. Think I paid equivalent of $5 for it. Best five bucks I ever spent. I ditched my LBV (actually began just throwing into vehicle as second load of ammo/water). What I wound up carrying in this rig (and supporting gear) is generally shown in the below photos:
Besides the AK vest, I wore plate RBA w/ 3-4 x 30 rd mags attached low belly in horizontal shingles, a basic Camelback, and a gun belt (M9 plus reloads plus Surefire plus AN/PRC-112). An old Gregory Mountaineering climbing pack was my "go bag" with 6 x additional 5.56 mags plus 2 x smoke grenades, 1 x M-14 Thermate grenade, extra water, and medical blowout/pill kit. I could carry 10 magazines of 5.56 on my person (6 in the AK pouch, 3 more on armor, and 1 in my M4A1). The 5.56 mags would have gotten lost in the depths of the pouches so I added an expended 40mm foam baton slug to the bottom of each pouch. This lifted the magazines high enough to be able to barely grab them (I wound up adding 550 cord pulls to the floorplates). Two frags in the small inside pockets. IR Strobe and weapons oil bottle & shaving brush in one outside pouch and a compass on the other side. I eventually added a cut-down VS-17 signal panel, IR chems, and two battle dressings in place of a magazine (which I then moved to the front of armor). Morphine injectors in plastic cigar tubes tied around neck. Signal mirror, blood chit, whistle, mini-firefly IR strobe, and other sundry shit scattered about my person. Dressings stuck into pockets. I changed out various equipment items while I was there but the vest continued to be used for the duration. It was all manageable (even in high summer) but was one of the reasons I started looking for better kit (like a MAV) when I got back.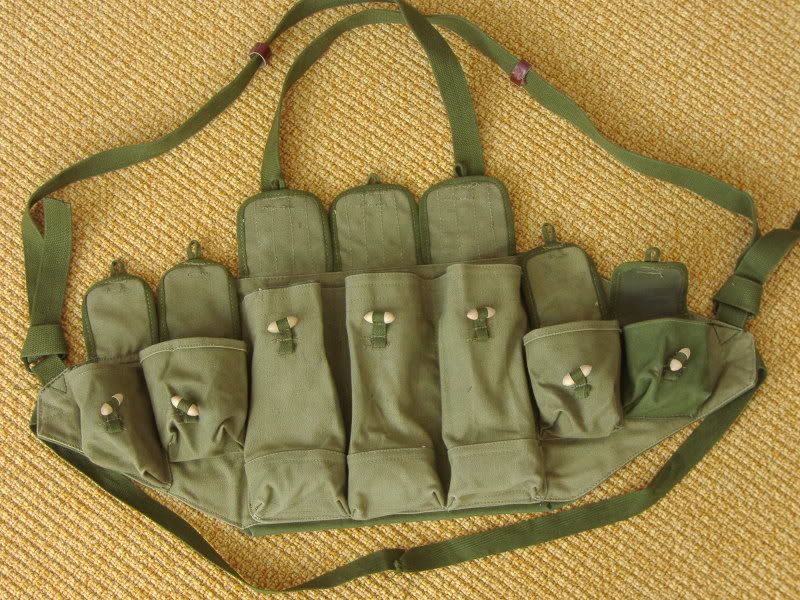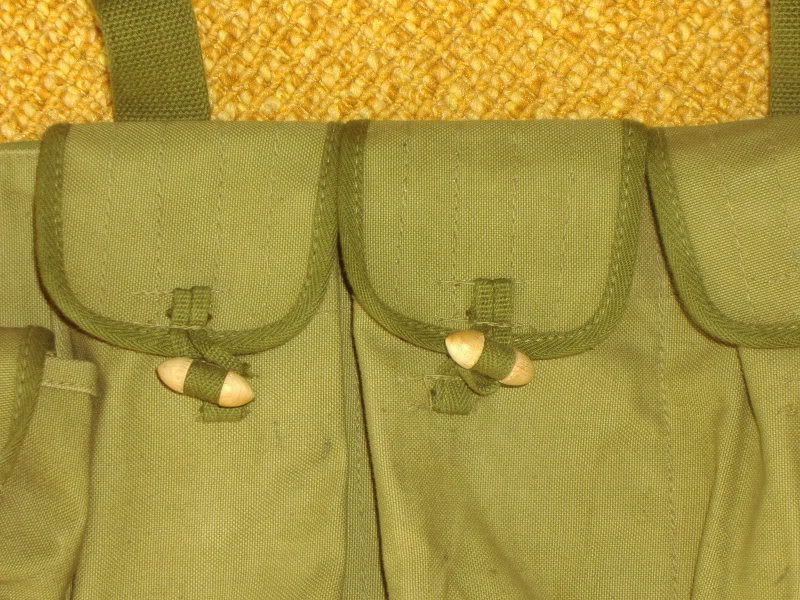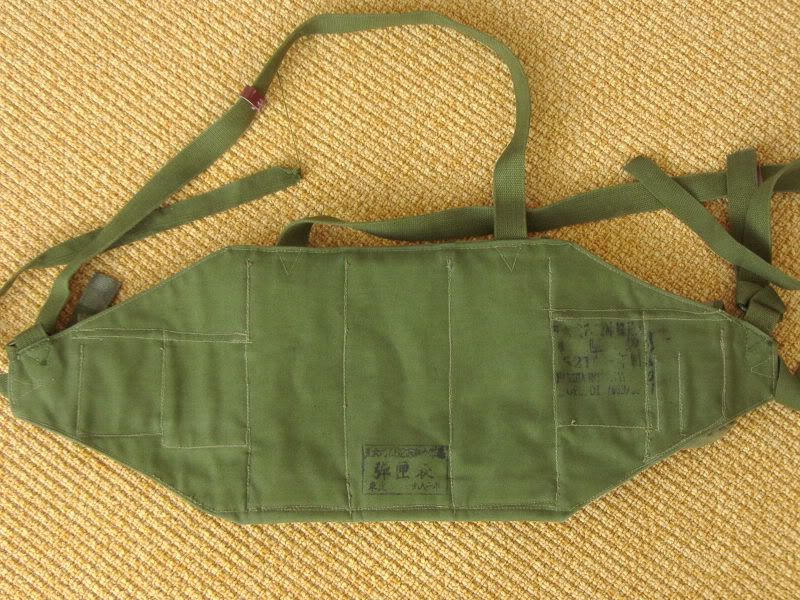 Description: Baby-Shit Green Cotton Canvas Construction w/ cotton or nylon thread & stitches. The AK vest is 25" across at its widest and 9" tall from bottom to top of center pouch. There is something to be said for the quality stitching provided by Maoist Collective Sweatshop Workers' Paradise Stitch-Bitches. This pouch has held up like a champ. The entire rig weighs about a pound. It has 3 x magazine pouches designed to each hold one 30-round 7.62 x 39 AK magazine. Each pouch can hold 2 x AR 30-round 5.56 magazines. Left and right of the three magazine pouches are a two grenade pouches which handle US M67 fragmentation grenades handily but have no spoon pockets. On the vest's extreme right end is a single pocket designed to hold weapon maintenance items (AK-47 multi-tool, oil bottle, patches). This pocket has an elastic & canvas retaining sleeve for the tool kit. On the opposite (left) end of the vest, the final pocket is lined with sewn-in rubber and appears to be intended to serve as a first-aid dressing pouch. All four of the small pockets can be used for grenades, compasses, strobes, etc. All pockets on the AK vest close by means of a short canvas flap secured by smooth wood toggles thru what are essentially green cotton shoestring loops. The rig has 1" wide green canvas shoulder straps sewn to the top of the front panel. These are crossed, then routed to and tied through a pair of sewn-in green metal D-rings located at the left and right sides. Sewn leather-like keepers are used to secure slack in the straps.
PRO: Lightweight, inexpensive, simple, comfortable...whether rucking, swimming, running, or marching...the Distilled Communist Infantry Combat Load Carrier...for $5
PRO: Multi-functional vest & 7 secure pockets with silent closure hardware and no rattle. Easy to wear over body armor or while under rucksack. Good for vehicular use.
PRO: You can carry AK or AR magazines...doh!
CON: Not designed to be modular, carry electronics, or carry much ammo. No place to carry or attach water bottle or canteens. No adequate radio pouch. What you see is what you get.
CON: Non-camouflaged canvas absorbs water, gets heavy when wet, freezes in winter.
SUMMARY: Grade A. Functional as a shovel. A bazillion AK toters can't all be wrong. At the end of the day, this rig got worn more often by US SOF than did the Army's issue LBV. It also allowed you to blend in a little better among the indig (along with the right clothes, beards, vehicles, and weapons).
2. SPEC.-OPS. M.O.U.T. RIG:
When I saw this rig, I thought "Hey, a modern MOLLE AK Pouch without the small pockets". Well, yes and no. It IS essentially an updated AK-47 Chest Pouch. It ISN'T sewn with actual PALS channels but will still accept any MOLLE style pouch you care to strap on. SPEC.-OPS. has taken the AK chest pouch concept and made it modular, smaller, and (IMHO) better.
The chest pouch panel and magazine pockets are all ACU patterned Cordura nylon. All Fastex hardware, vest webbing, rear pocket mesh, thread, and sewn nylon edging are Sage Green in color. Available in Black, OD, Tan, Coyote Brown, & ACU.
As is obvious from the 1st photo (side by side)in this review, the M.O.U.T. Chest Rig is considerably smaller than the original AK-47 Chest Pouch. Being configured for 30-round 5.56 magazines, the pouch is not as tall (only 7.5" high) as the original and, by dispensing with the side panel areas of the original, is considerably narrower across the front (only 13.5" at bottom widest point).
The rig has four double 5.56 pouches, each having three rows of horizontal elastic compression straps which extend across front and both sides of each pocket. The top of each pocket is secured with a 1" wide Dura-Lastic strap which snaps into a 1.5" wide stiff nylon webbing tab by means of a standard lift-the-dot snap fastener. Each pouch has a full length Cordura divider that divides each pouch into two separate pockets. Each of the eight magazines is individually secured and will not rattle against its pouch-mate.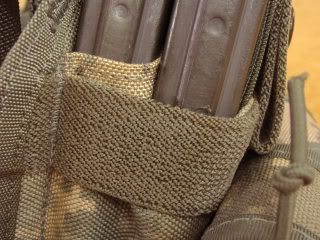 SPEC.-OPS. Brand describes their "Dura-Lastic Compression and Quick-Release Top Straps" as "a proprietary blend of Cordura fiber and natural rubber". It reminds me of the elastic leg strap material found on a Safariland 6004 drop leg holster. I had my doubts when I first saw the advertising, still had doubts when I first handled the rig, but gradually came to realize that this is just another way to skin a rabbit. The side and front elastic webbing provide retention compression (much like those used on Paraclete pouches) and allow MOLLE straps to be threaded thru in the normal ladder fashion. They will secure most any item that you might ordinarily stack on top of a shingle (pistol mag pouches, grenade pouches, utility pouches, etc.). You can also slip various sized small items directly thru the bands (chemlights, flexcuffs, etc.) My initial fear was that the elastic webbing wouldn't be durable but...my 7-year old 6004 holster uses a similar material for leg straps and is still going strong. No worries...your stuff will stay attached to this rig.
The harness system is a modified "X" made of 1" wide nylon webbing attached to pouch panel at top and sides with four Fastex buckles (all of which are adjustable for length). After crossing over one another behind the shoulders, the straps run down to a horizontal rear waist strap. The waist strap joins the sides of the panel via previously mentioned Fastex buckles. Where the shoulder straps join the waist strap is an 8" W x 2" H elastic rectangle of the same "Dura-Lastic" material used in the retention/compression straps. This allows the rig to expand as the wearer moves, bends, or turns and is a nice comfort feature. Adjustments can be rapidly made at all four buckles (while wearing the rig) in order to tighten, loosen, adjust for armor, or raise carry from belly/diaphragm to high chest/pectoral.
The back of the magazine panel supports an open-top mesh map pocket. With magazines inserted into front pockets, the useable space in this auxiliary pocket is about 12" across, 6" tall, and 1-2" deep. The mesh pocket has zero closure and is probably best suited for soft, flat, and compressible items like maps, signal panels, battle dressings, watch cap, flight gloves, etc. I intend to sew a full length Velcro strip to this pocket and would not currently trust it to secure anything vital unless that item has a dummy cord.
Two 3/4" nylon straps with Fastex buckles form adjustable loops attached to the front bottom of the rig. These are for securing to PALS channels on the front of body armor (for additional pouch stabilization). They would also be real handy for flex ties, an additional triple shingle, or possibly a horizontally hung knife sheath.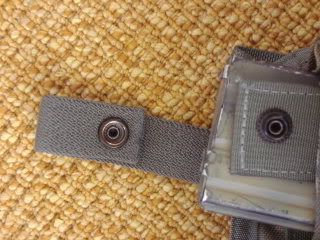 The primary function of this rig is to carry 8 x 30 round 5.56 magazines and it does this well. There is a generous & thick pull tab extending 1" below each snap fastener. Obviously you can grab the tabs to open a pouch but you can also just rake your cupped fingers (from below) up into an easy release. The top 1.5" of each mag is exposed, easy to grasp, and a piece of cake to extract. The magazines are retained securely enough to do forward rolls even without securing the straps; snug friction fit aided by compression straps. I didn't try any version of magazine pulls. As the elastic closure straps only have an excess upward expansion of about 3/4", I have my doubts about hard plastic or rubber pulls, but I don't use 'em anyway. Shock cord or 550 cord pulls will work just fine in these pockets. As there IS a built-in expansion in the retention straps, I think there should be no problem for folks using slightly larger G-36 or HK steel magazines.
The pockets are not large enough for a PRC-148 but you should be able to insert an ICOM, Motorola brick, or other slim radio. You could also just attach a radio pouch to the front or side of the magazine pockets.
A pistol will fit into an empty pocket with ease and security. The elastic closure strap acts as a perfect retention snap for semi-autos and should adjust to almost any medium or large frame auto. The dummy M-9 in the photo fits the pouch like it was purpose designed for it. You can also still securely friction fit the M-9 into a pocket that is already holding a single 5.56 magazine (see photo). The retention strap will not reach across both magazine and pistol to secure, but the pistol is still held snugly.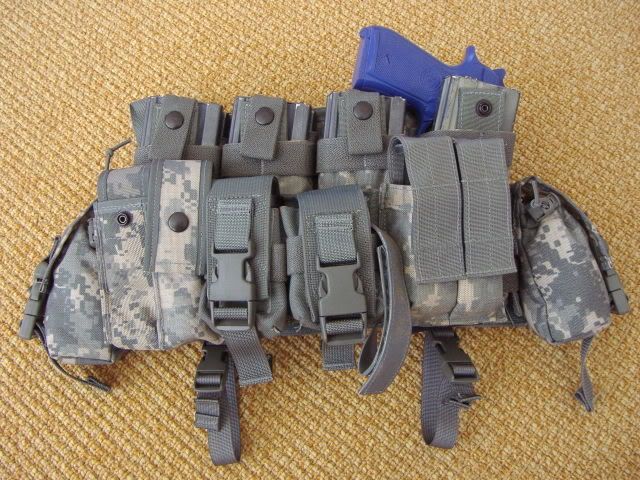 The rig as shown is carrying 7 x 5.56 mags, pistol, and (viewer's left to right): Supply Captain Modular Smoke Pocket (for frag, smoke, or 5.56 mag); 2 x generic MCSS combat light pouches (Surefire 6Z & multitool and folding knife, plus 4 extra CR123 batteries); SPEC.-OPS. Brand Double Frag Pouch (IR Strobe & lensatic compass); tourniquet; Tactical Tailor Double Pistol Mag Pouch (2 x 9mm mags); and another Supply Captain Smoke Pocket. If max ammo were a requirement, the harness (as rigged and minus pistol) could carry 10 x 5.56 mags, 4 x 9mm mags, and 2 x frag grenade OR 8 x 5.56 mags, 4 x 9mm mags, and 4 x grenades. All in all, it's a pretty flexible load in a very compact package.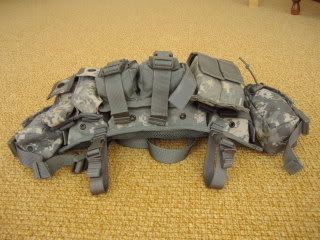 PRO: Compact, lightweight, and modular; a lot of ammo and load options.
PRO: Good quality stitching and edge finishing. Good magazine retention. Good ACU pattern.
PRO: Stretchable Dura-Lastic PALS webbing allows a fair amount of left and right play in placement of accessory pouches. You are not a slave to the tyranny of immobile nylon PALS channels. You can really hug all sides and front of 5.56 pouches when stacking additional items. It's easy to straddle across magazine pouches and share channels.
CON: Mesh utility pocket is only about 10% as useful as it might be IF IT HAD A MEANS OF CLOSURE. A good idea poorly executed.
CON: No reasonable location to carry water.
SUMMARY: Also Grade A. If I needed to run out the door with one of the two reviewed rigs, the M.O.U.T. rig would be it. It offers more capability and features than the original AK Chest Pouch, but in a smaller, more comfortable, modular package that is easier to don and doff.