After seeing
this thread
by basicload, I decided I must have one of those grips. Where to buy one? Nowhere, it's gotta be made. So, I set out on my search for the perfect 30mm ring (the starting point and most crucial piece of the unit). I found
this 30mm mount
by Aimpoint. I bought one, and started planning.
I would be using a regular old Surefire 6P, so I needed a spacer for inside the ring to take up the extra space. (I though about using a set screw, but decided the spacer would be more secure, and allow me to tap it as well, for extra strength for mounting the grip. I picked up a spacer from a local shop, and headed to my local Ace for the appropriate hardware and tools. For the screw, I decided upon a 1/4-20, similar to the standard M16/M4 grip mounting screw but slightly shorter. I used a standard lock washer from a M4 grip mounting screw.
I put the ring in a vise, along with the spacer and a piece of 1" metal tubing to hold everything secure. I then drilled a hole at the 12 o'clock position with a #7 drill bit, making sure to keep it all straight. After that, I tapped it with the 1/4-20 tap I bought at Ace for about 4 bucks. I used a t-handle and did this by hand. I cleaned up the holes a bit with some fine sandpaper and a jewelers file. This part was done.
Next, for the grip. I acquired an M4 grip, and cut it so the flat portion inside would mount flush with my ring. This also puts the grip at a near 90 degree angle, which seems more ergonomic to me. I left a small lip and went at the inside with a dremel to create a small inward curve to grip the ring and prevent it from spinning in my hand when mounted. This required the most time and patience.
I loosened the hex screws on the ring, mounted my light, and started the screw. I left the hex screws loose during this to ensure the mounting screw, washer, grip, ring, and spacer would all line up. I placed a drop of Cyanoacrylite (sp?) glue (aka super glue) on the exposed threads, and tightned them by hand to the equivalent of 40 inch pounds. Nice and tight. I would use Loctite, but CA is stronger, but can still be loosened with a heat gun if needed.
After that, I tightened the hex screws and mounted it to the forwrd most position on the lower rail of my Knight's RAS. It is still solid as a rock 1,000 rounds later.
Here are some pics:
Left Side (the ziptie is to hold the lens cover on. It gets hot, and expands just enough to fall off.)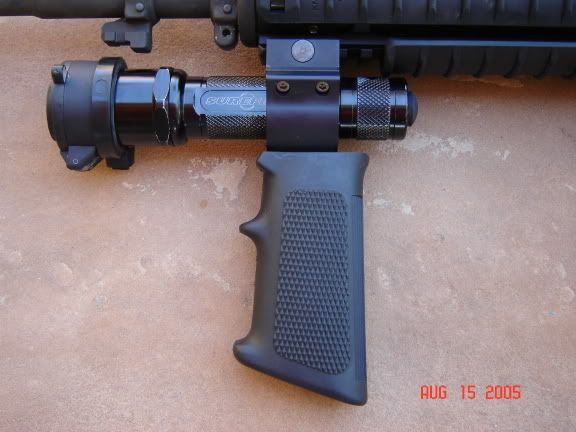 Right Side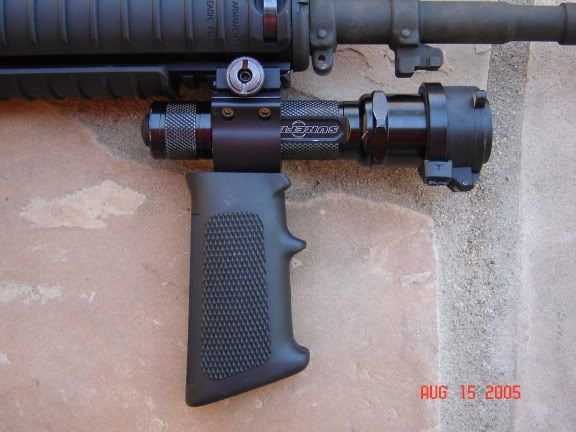 Rear, showing spacer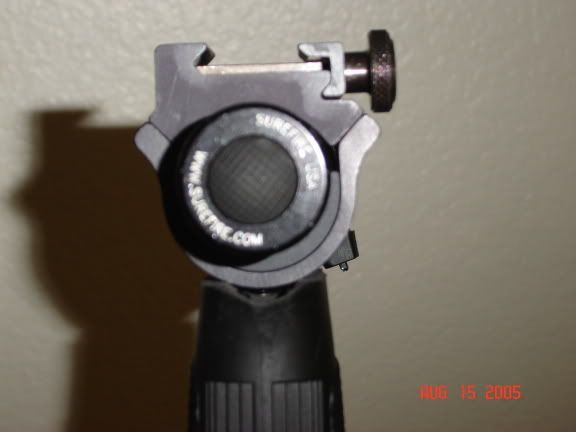 Left front, note rounding of grip where it interfaces with the ring. This keeps the grip from rotating.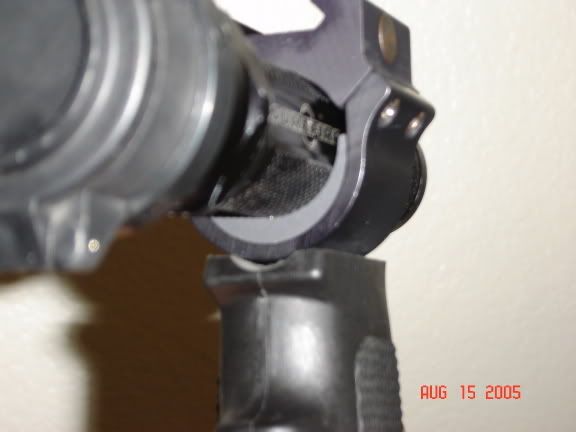 Inside of grip, showing screw and lock washer. Just like on any other AR variant.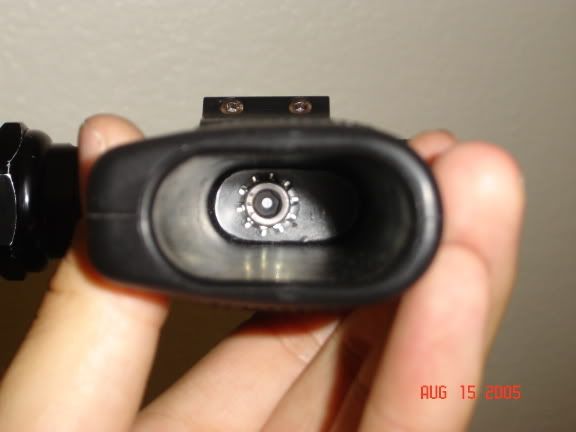 Overall, I am very pleased! It took a bit of work, some time, and more money that I expected but the end result is more than worth it. It's very solid, and gives me the best of both worlds - grip out front, and light on the bottom.
edit: sorry about the small pics, I had to use a relatives PB account.