INTRODUCTION
Whether you reload ammunition or not, anyone interested in precision riflecraft has an interest in understanding what goes in to making our ammunition as accurate as possible, whether we make it ourselves or purchase it from a commercial source.
Understanding these factors helps us especially when we DO NOT have the results we desire with our favorite bullet launcher, and want to identify steps that may help us achieve the best accuracy possible.
For most of us, reloading is an essential step in that process. Few rifles exist that do not benefit from loads tailored to that particular rifle. Most of the steps involved are not particularly difficult nor are they expensive once you are set up to perform basic reloading tasks.
I'm going to talk about many advanced techniques to develop the load most suited to your unique rifle. Some of them may be beyond your ability or desire to try. Nonetheless, I believe it will improve your knowledge and prove interesting at some level.
BASICS
We don't do a lot of dedicated reloading talk around here, but there clearly has been an interest.
I'm going to assume that you already perform basic reloading tasks, whether loading straight neck pistol or rifle cases (the easiest reloading task), to being able to reload bottle-neck rifle cases (slightly more difficult). If not, don't be discouraged from reading on.
For anyone interested in reloading, it does not need to be confusing. Get a basic reloading manual and read, read, read. Most all manuals have excellent introductions with chapters explaining the basics of components, the physics, the basics of internal and external ballistics, the reloading process for straight wall and bottle neck cases, record keeping, and a lot more.
GET A RELOADING MANUAL. PERIOD. Many are excellent. I can recommend the Lyman Reloading Handbook as being one of the best for this purpose, is about $22, and highly readable. I have them going back to the 1950's (inherited) and consider it an indispensable resource. The Sierra, Hornady, and Lee manuals are usually as good in regard to the introductory chapters on the basics of handloading, but have varied in their commitment to introducing the basics in different editions over the years. I guess the Lee and Lyman have always been consistent in their commitment to teaching newcomers the basics well.
I keep manuals from most all powder and bullet manufacturers whose products I use and continually update them when new editions appear.
Bottom line, get a good manual that covers the basics if you're just starting out, read it multiple times, try reloading, lather, rinse, repeat. I review manuals constantly and read as much as I can about the hobby constantly. Your need to return to the basics will never stop.
FOR MANY OF THESE TRICKS YOU ALREADY HAVE THE NEEDED TOOLS
While I'm going to discuss mainly advanced techniques, some of which require specialty tools that can be expensive, I will endeavor to include simple, practical techniques that can be performed with the basic reloading tools you already have.
However, reloading is all about precision and consistency. If you can't measure something accurately you can be neither precise, accurate, nor safe. A decent pair of basic dial calipers costs about $25. Do not even think about participating in reloading without at least a set of calipers.
A final word about reloading. Never use someone else's load information. Factory ammunition is made to operate safely in essentially every commercially made gun to the best of the ammunition manufacturer's ability. Standards exist that are put out by the industry (SAAMI). What you read on the internet or what your buddy tells you is safe in his gun may not be safe in yours. You can reasonably assume loads published in a reloading manual are "safe". The same cannot be said about what you read on the internet.
The combination of powder type, lot variations, charge weight, bullet type, overall length, etc. are such that in combination with the variations in your rifle's chamber dimensions, headspace, throat length, etc., means that your rifle is different than the guy who posted on the internet. Do not think that these variations do not exist in off-the-shelf factory rifles. That guy's Savage .338 LM tactical that shot ½ MOA groups with his load is not the load you should simply exactly duplicate for your same gun. The reason is that your gun may have been chambered on a different machine, in a different year, by different reamers, where that lathe was used for a different chambering process/different caliber for six months before it was returned to use for the next run of your gun's caliber. There are minimum and maximum chamber and throat dimensions which are all "acceptable" and generally safe, as long as you're talking about using fairly standard loads. The manufacturers do an incredible job maintaining consistency, but important dimensional variations exist. Others will testify to this.
Bottom line, there are steps for working up any load, even loads you get from a reloading manual published by industry ballisticians. If you don't understand what I mean by working up a load, open that reloading manual and read, read, read.
I will generally not be discussing "my loads". I will concentrate on how to give you the knowledge to develop loads for your rifle, using examples of how I do it, step-by-step.
When I evaluate what someone shares on the internet about their "magic" powder/charge weight/overall length combination that lets them shoot one-thousandths of an inch groups at 10,000 yards, it is for comparison purposes only. When I see something that someone has shared that seems to be an "outlier" from my experience or from published loads, it is telling me something about that shooter's chamber/barrel dimensions, or about the shooter's ability to reload safely!
There are some good references on the internet however. Handloader Magazine (Wolfe Publishing) has an internet database where for a fee they list about every load they've ever developed and tested. It is a great reference from folks who are part of the industry. www.loaddata.com.
A great site is www.accurateshooter.com. There's a lot of good info here put out by world class shooters and I have used this site as a reference for comparisons many times.
There are some good threads on Sniper's Hide, and I have referred to some of their threads over the years, again, for comparison in techniques and methods.
How is this going to help me?
If you're like me (LF'er) you are not interested in punching paper for the "smallest group". It's fun, but it's not my end goal. My desire is to provide precision fire on man-sized targets to the maximum range I can push my weapons system. The load that achieves the smallest groups at 100 yards doesn't mean the same load will produce necessarily the smallest groups at ten times that distance. By the end of this series you will understand why.
A lot of precision reloading information is put out by the benchrest shooters. Their discipline judges success or failure based on group sizes measured to the third decimal place with 10 shot groups that measure the size of the caliber. The platforms they shoot and the conditions they shoot in don't mean much to us.
We've learned a lot from that discipline in regards to what factors we can control with our reloading practices to achieve the greatest accuracy possible. However, we do not need to use the same methods or even many of their methods to maximize our accuracy.
F-Class shooters have a lot in common with what we think of as tactical precision engagement (sniping), but again, some of the techniques the top guys use are to squeeze that last tenth-of-an-inch of accuracy out of their set up to win a match. Sometimes those techniques sacrifice reliability, and aren't what I want to use.
This is my laboratory.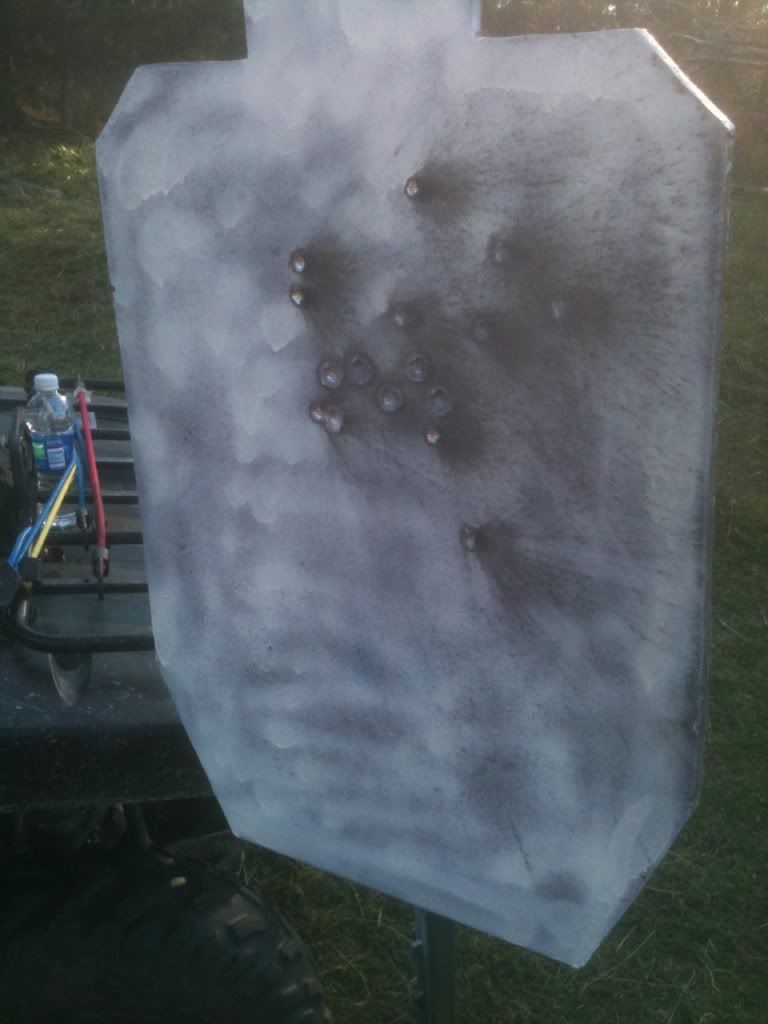 What I want to achieve with my reloading is this: I want to use the best techniques I can to maximize my accuracy while spending the minimum amount of time reloading. What do I mean by all this? There is not much value gained in the time you spend neck turning cases when your goal is hitting an 18" target at 1000 yards reliably, versus using that same amount of time to load 50 more rounds of ammo. My time and energies are better spent doing more shooting and becoming better at judging effects of weather. I don't care if a benchrester or F-Class guy inside and outside neck turns, uniforms pockets every firing, partially neck sizes only, etc., to wring out the best accuracy for his game. It does nothing tangible for me.
I've tried all these techniques over the past 30 years (I'm 49 and started reloading for competition at 12). I've found out what works and what isn't particularly germane to what I want to do; help snipers kill effectively. Yeah John, but we get issued all our ammo and I'm never going to shoot someone with my handloads. Got it. You're most likely right. However, much like a lot of facets of competition, using gear and components that maximize your ability to be accurate will make you a better shooter on every level, even with issued ammo. It will let you absorb what is "possible." Shooting an IPSC race gun in competition is an experience unlike shooting your secondary in full kit. But you learn how to apply principles at a much higher level when your gear allows you to "push the envelope" of performance. These skills transfer across the board. As I said earlier, even if you don't reload, these techniques and their principles will aid your understanding of what makes "accurate" ammunition, and will improve your knowledge of the craft.
It also lets you subtract factors that are not responsible for your misses. I'd rather be able to eliminate my ammunition as the source of my miss and KNOW it was my bad wind call rather than have to consider every variable as the possible source of my miss.
And of course, reloading is cheaper, allows me to maximize the accuracy of my platform, and is generally fun.
The last word is simply this. There is not a single correct way to achieve improved accuracy when reloading and my way is not "the way". There are certainly things to avoid, particularly when it comes to safety, but there is not one agreed upon way to do something "best" when it comes to reloading for long range accuracy.
'Nuff said. Let's talk about the ladder test.