Slightly obscure sight for professionals in the US based on what I see posted and discussed, but I found it's not just affordable, but between good and spectacularly good. Thought I should share.
If anyone else has experience with one, do tell what you've found, good or bad.
Why do I have weird sights?
I have been on RDSs for decades. Got big into them in the 90s, and lived off a series of Aimpoint 2000s, an EOTech (before I was an early hater after much failure in class and the field) and did a little work with an Elbit Falcon, an OEG, early Japanese PDPs, and more.
A few years ago my eyes started showing my age, and I tried a stint with all magnified stuff. Had a couple LPVOs (still have one gun topped with a USO 1-4) but found myself a little slower when under 50 yards. Tried someone's Aimpoint/Magnifier setup and decided it was the way to go. Been seeking the optimal configuration since then.
Because, my eyes still suck. Aimpoints are as close to useless to me as makes no difference and I own none myself now. MRO is worse, and I have burned through a number of others seeking our a good, functional sight. Some have been sold here, some are in my spares case in the basement. I have avoided mini-reviews of them all to badmouth them, but now want to tell you how much I like the one I've had mounted to my primary carbine for a bit, because I am so pleased with it.
Disclaimer:
Nothing. Nothing to disclaim. Not paid by anyone for this, paid real money for the sight, etc. But feel free to mock my poseur conclusions and observations all you want.
Review:
The stupidly-named Tru-Dot RDS® is a lower price version of the M5 currently being issued to the IDF in bulk. Think of it as the competition to the Aimpoint PRO in that regard. The Tru-Dot RDS is in fact intended to be for the LE market, and is only sold in the US so it's totally the "Meprolight PRO."
Retail is usually $350-400, but some people get them for under $300 so it's in line with other discount major-brand prices, or a deal, depending on where you buy. Sometimes sold with BUIS, magnifiers, etc as package deals so look closer if the price seems high.
Overall Layout and Controls:
It is a square HUD style sight, not dissimilar in shape to an EOTech. But don't be confused, it's not holographic, and not a knockoff of the EOs.
It's awful black. Probably wait a few more months to make sure it remains awesome, then mask and paint the sides at least.
A LOT of reviews compare it to this only, but that's because they are Americans who don't pay enough attention to the market, and only look at brand history. Sure, it's the first Meprolight battery powered, RDS of note but you have to think of the Israeli arms industry like ours was before WW2. Makers come and go, but the government sets the tone for what they want.
This is clearly to me the next step in their home-grown red dots. From the Elbit Falcon, to the MARS, to the M5, they have:
A relatively low, square body with integral mounting hardware
Take an AA battery, loaded front right
The window raises up in a small footprint above the sight
Zeroing adjustments are large slotted screws suitable for a coin, top and left, well forward
The control is on the left side, towards the rear
Throw levers, adjusted by a simple captive hex nut inline with the cross-shaft, on the opposite side
Think of it like the current occupant of Lake City. It is just who won the contract, but the plant is basically the same. So this is not a Mepro, it's "the next generation of battery-powered IDF sights."
The other thing is, I thin the dot quality is awesome on all of them. I only got rid of my Falcon as it's huge, heavy and takes a weird battery. And yes, if you weren't sure I was crazy and untrustworthy: yeah, one of my favorite guns has a MARS with IR mounted to it all the time.
An embarassingly bad photo of the TruDot RDS next to a MARS; the adjustments, battery in a bulge, etc. all point to a familial heritage.
Anyway, it has a large and very rectangular FOV that seems to be oversized at first, but the overall size of the sight is smaller than some of the competition such as hooded EOTechs. It just uses the space better.
You can, for example, lay the gun down on either side on a flat surface and it's actually flat. Not resting on the sight. Despite the apparent size, it doesn't actually stick out. No controls or levers stick out either, so it is comfortable to carry slung, doesn't snag on gear or bang into doorways as you pass, etc.
Body is made of plastic (no idea what kind), which is supposedly one of the cost saving features of this model. They do sell a "Pro" model for upwards of $800 (well, list price) which is supposedly an M5 to the T, but I have never seen one with my own eyes. It looks like this:
And is apparently all or more aluminum, covered in rubber here and there, and the control is a different (worse!) shape, but it is basically the same sight otherwise. Or... not? Some insist the IDF-issue sight has plenty of plastic and both passed the same drop test but I find it hard to tell what is true.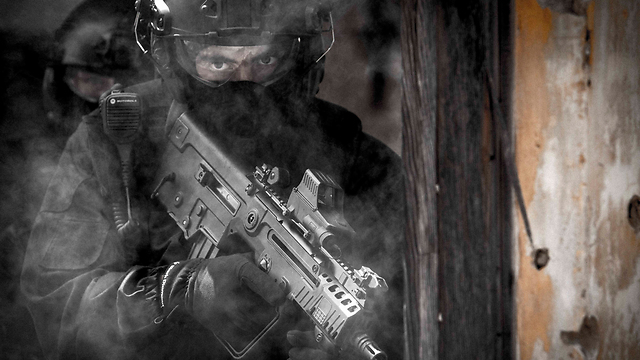 IDF promo image at announcement of the M5 adoption in 2015. They have a real PR wing over there!
The "discount LE model" I have is very light, but seems sturdy enough and I have no worries just looking at it and using it.
The hood is bolted on and while they were supposed to be all plastic but for a first 200 limited edition ones, mine is pretty new and not limited edition and has an aluminum hood. Maybe they improved them?
Seems to overall be bolted together, as there are a few screws about, so not all clips and glue, which is encouraging.
Next to the battery cable cable tiedown is another wire tether point. I guess leftover IDF part or requirement, but seems useful to have so I don't mind at all.
Some specs, but maybe some are only for the Pro:
Sight window: 33mm x 20mm.
Overall size: 118mm x 60mm x 69mm.
Weight: under 300 grams 10.6oz
Complies with MIL-STD 810 (pressure, temperature, shock, rain, humidity, fungus, salt fog, etc. etc.)
The manual is a bit thin and the mepro sight is too into marketing instead of a simple comparison so it's sometimes hard to tell what features are on which model.
Mounting:
Mounts to any Picatinny rail with two throw levers. Came from the factory set up right to fit on all my quality guns. There's a simple adjustment bolt on the opposite side if you need it.
The throw levers are very nice, get very out of the way when closed and don't snag on anything but are easy to get a finger under to remove if you actively try.
Levers open. See above for closed.
There is a single fixed crosslug on the bottom of the main body of the unit. It's pretty snug. Not too tight, but you better get it all lined up or it isn't going on the rail. It is more nicely rounded than a lot I have seen, not sure why but it seems like a good idea. Serial is on the bottom, and aside from the M logo molded in there are no other identifying marks on the unit.
Different colors in the photo below are different materials. The mounting bits are aluminum and steel parts sticking through the plastic case, pretty complexly sometimes.
I have lightly tested return to zero (take off, drop onto grass and gravel from 4 feet, put back on) and it is perfect as far as I can tell. But I have yet to really, truly abuse it as I paid good money for it and want to keep it.
Zeroing:
Two big adjustments, with curved bottoms for coins (or cartridges I guess?) on top and left. Clearly labeled with which way to turn them.
0.5 MOA clicks, and quite clear clicks. Didn't do a full box test but I suck at zeroing (always have) so it took a while, and so there was plenty of going too far and coming back where I could check the repeatability.
Sight Picture and Dot Quality:
Ignore the dot in the photos; it is way smaller than that, but very sharp. Only thing I have used that's sharper is a Singlepoint but that's not really the same thing at all. So, about the best dot I have ever used. As I mentioned above, basically the same very good quality and style as the Falcon and MARS, so whatever technology they are using has not changed a lot, and is probably derived from aircraft HUDs.
I suck at photos through scopes so I have no useful ones to share. Stole this from TFB. It's close to the real size of the dot, but the artifacts and blooming don't really occur to me:
The dot is clear and visible all the way to the bottom so if you really snug down to the stock you can keep shooting, but it does disappear a bit before the other edges. At the left edge it turns into a comet and then fades away, just sort of disappears at the very, very far right or top edges. These are both extreme; your head should not be over there anyway.
In the video here the dot is inaccurate and does NOT look this big or translucent, but the disappearing is accurate.

Sight is "bottom-third" cowitness on ARs but looks more like bottom 1/4 or lower. It's now my favorite way to do this with a back-up iron sight, as it's just barely useable with any AR-height irons without dismounting, and otherwise is comfortable and has a good view over the sights so you can leave the front up.
So those of you annoyed you still have a fixed FSB, this can help solve that without taking it to a gunsmith to replace the front sight. The low height is not a mistake as the IDF-issue BUIS for the Tavor variants are higher, so it is an absolute co-witness to most of their guns. It also just also works on their many M16/M4 type carbines still issued.
Reportedly, some other guns like the ARX-100 also have tall BUIS, and this is absolute cowitness on them as well so may be a nice choice for some of those guns as well.
Lens is reportedly glass, and I have no way to prove or disprove this. It is (apparently) untinted. Not the blue tint of many RDSs, but not any tint I can see, through it or even at a funny angle since you can see down into the sight so across more of the lens. Know how you can see that window glass is green when you look at the edge? No color visible here.
Some additional thoughts on dot quality under the controls section... now!
Controls:
There's one dial on the left side/rear. Apparently, the first prototypes had a lever (guessing basically like the MARS) but the IDF made them change it. The M5 (and pro) has circular wheel as shown above with little notches, but this one is a sort of rounded square/diamond shape which I find very easy to identify by feel, and to turn. If I had seen the other, I suspect I'd prefer it, and one review that did see them both agreed.
Yes, it has "only" four settings (well, 5 if you count Off) and that's gotten some reviews to give a minus, but it is great to me. I have found they work well, once you get used to just using the sight, not tweaking and playing with it.
The dial is almost foolproof, and being a physical switch means you can set it and forget it. So, none of the pushbutton style of auto-off/on where it resumes at whatever setting it wants. No looking through the sight to get the setting juuuust right before you go through a door.
And if worried you bumped it off, or you need to change to another setting before you go into the dark or step outside, you can reach down, twist and count clicks. Tactile and simple is the way to go for combat tools.
Settings are marked 0-4. Zero is off, 4 is night vision. You can use the night vision with bare eyes on the darkest nights once acclimated, assuming you can see the targets, which could be nice I suppose but I haven't done that with it.
So far I pretty much use 2. It is visible even on the brightest days. In fact, the shooting-into-the-sun I mentioned I had it on 3 — the lowest normal setting — for the usual red dot sight "appears smaller to the eye" thing, so I could shoot far away more accurately. Still totally visible.
So, no worries about brightness for me at all. Having a higher setting is a nice to have though. In the dark, you can get a ring or bloom around it at the high settings, but it only bugs me for more precision work, when you have time to turn down to 2 (or 1) anyway. For quick work, the dot pops up at you enough I don't notice the other bits, so it doesn't practically matter.
I have not, so far, bumped it while carrying. It is un-guarded, but I suspect the IDF requirement to make it a wheel is because the lever could be bumped, and they'd presumably have fixed this more if it didn't work.
Battery and Life:
A single AA battery goes into a waterproof (has a gasket at least), cable retained, screw-on port on the front right. Appears to be physically separate from the interior, so water—or acid explosions—won't get to the device electronics.
Naturally, like everything, came stone dry. I put a tiny amount of dielectric grease on the threads and gasket as I always do. Battery cap and threads appear to be plated heavily, and even dry it didn't make horrible grinding noises like most screw on battery caps before this. The battery contact in the cap is a similarly heavily plated shiny white metal. Copper(?) spring is at the bottom of the battery bay.
Typical tactile graphic of which way to put it in is on the right side of the case. As usual. Positive up if you didn't figure that out from the spring positions.
Throw away the battery it comes with in the box. It is a cheap Industrial Alkaline (made in USA!), whereas the unit is designed for Lithiums. Even says so in the manual. Some folks are reporting bad battery life with these, but appear to be using shitty batteries so...
With Li primary cells the unit reportedly runs about two years at high power. But, it will effectively go longer as it auto shuts off after 10 minutes of being left alone, like in your gun safe. Then a motion sensor turns it back on. Instantly. And by "motion" we mean breathing on it.
Seriously; I left the carbine on a table for a week and kept making sure it was shutting off, and then turning on. It is hard to touch the gun, much less pick it up without the sight turning on. In your rack or gunsafe it will be saving power; in a car or your hands, it is ON all the time so that 2 years may matter. But OTOH, any damned time you bring it to the eye, the dot is on, at the level you set it. This has been claimed on other devices (e.g. my MARS turns off, but not ON!). But it 100% works on the Tru-Dot RDS.
I have not encountered a low battery state, but it supposedly tells you when low with two blink modes - This MAY be a Pro model feature only but electronic features are cheap so I'd be surpised:
4 blinks (I guess when it turns on?) means there are about 50 hours of battery left
Continuous blinking while active means about 5 hours of battery left.
I cannot confirm this as I almost cannot get a battery dead enough for it to not power the sight. I put a series of dead batteries in the sight — batteries that won't power a small LED light more than a few seconds and the sight works fine.
I finally found one dead enough the sight wouldn't come on at all. An Amazon Basics rechargeable in a lost pile, not charged for a year at least. I put it on the charger for literally 5 seconds and... the sight works. For several minutes at least. At full brightness.
It doesn't take many milliamps to run this thing.
Precision and Parallax:
Dot is reported to 1.8 MOA, seems about the size of any 2 minute dot so small but a distinct circle vs a pinpoint. I guess I believe them. Since it is sharper-edged with no bloom, I can shoot better than most sights I have had lately. When last at the range I shot a 15 shot 8" group at 200 with it prone offhand, and the dot was probably at "two positions" from parallax due to use of a clip on 2.5x magnifier for half of them (magnifier is centered in sight, I usually shoot bare eyes more lower third).
So, no parallax issues I can confirm, unlike that junky Aimpoint T1
. IF parallax issues sare present, they seem to be very small (1-2 MOA) and are more vertical than horizontal. I have tested this, robustly. Not just by eye, but firing.
I took a series of shots with my head adjusted so the dot appears in the middle, high, low (cowitness), upper-right corner, and far left. All were in a suitable group. I got a bit of vertical stringing indicating some vertical deviation but a very small amount and the largest deviation I could get was only at the very edges, where it was hard to even get my head to.
At any normal dot positions (center third of the viewport, say) there is no discernable real world parallax, and the deviation is too small to worry about under the expected use and demanded accuracy of the platform.
Glare, Flash, Protection:
No killflash included or available, but supposedly it has anti-glare coatings and the lens is angled to not glare at you target. Meh. I'd rather have a killflash to make sure. Someone make one!
Internally, there is no issue. Have shot essentially straight into the sun with it, and no problem; my glasses (hell my eyes!) had more glare issues than the sight. Even when I get a thumbprint on the glass, it doesn't glare. Dunno how they did that.
Aimpoint Comp M68s (and many others) can be useless without a killflash in the same situation. I actually was side by side with a friend with a Comp M3 and he was having to stop shooting or shade the sight with his hand to do things where I was not having any issues. We'll get him a killflash soon.

I DO wish it had a big rubber add on hood for extra protection, and to keep rain off the lenses but that's theoretical; haven't had it rained on yet and seems sturdy actually. The M5 and pro model have rubber coating as well as more aluminum, but hardly any more lens protection and no killflash. Dunno if it matters practically. It is also black, so if someone made a brown rubber cover I would buy one immediately.
Remains to be seen if I break it, but I have never heard of a broken one yet.



Totally pleased. If it holds up, perhaps my favorite sight ever. Very accurate and fast at close range, easy to use at long ranges, such that my groups are half the size they were recently.

Will buy more to replace other RDSs on other guns when I get the money, and time to mount them.