I'll warn you up front. This seems like a long post. I read that we should not just post pics but actually talk about why we are running the gear and how it's performing. So I'm trying to honor that. If it's too much, just let me know.
This is my current war belt, Version 4. This was more like an overhaul though than introducing some improvements to the previous "base system". That base system was sold on the E&E and is long gone. The war belt has been a work in progress, for about the past 3 years. I started out with a double lined scuba belt, AustriAlpin buckles, with some kydex double mag holders and a holster from TR_Holsters (Very solid kydex holster maker.) But it didn't take long to discover that did not accomplish what I wanted in a war belt. Initially I wanted PALS webbing like my chest rigs had. Makes sense right? So Version 2 was an HGSI Sure Grip. Plenty of PALS, but I didn't like how wide it was, it would ride up when I ran a lot. So did Version 3 which was a scaled down HGSI Slim Grip. I liked the compactness initially, but I had issues keeping my pouches firmed up to the belt. Could have ran zip ties, maybe should have, but I wanted to try another option. I gathered some reliable intel from my sources and that's how I arrived at Version 4. I did have some input from a friend who lived and breathed this stuff for many years while deployed as a SOCM. He's a great resource when planning all my battle rattle out.
So let's get on with it.
1. Belt: G-Code Operators belt. Two piece belt. It has an inner belt with Velcro hook on the outside. I pulled off the metal ITW Nexus G-hook and replaced it with the ITW GTSR closures because I like the way it fastens, a very common fastener. Any belt with hook Velcro will work with the outer belt, given similar sizing. I have an old Oakley belt with Velcro hook and works well also. The outer belt is slotted, which work really great for securing pouches. This is really my preferred setup. I like how the outer belt stays secured to the inner belt. When running the Sure Grip or Slim Grip, after enough running and dropping on the ground, the war belt would ride up a little. That would start causing issues with the distance of my pistol from my chest rig if I was wearing on. When I first got the belt, I wished the inner belt was something I would be more prone to wear on a daily basis, but there's nothing fancy or pretty. I'm good with that, but I recognize it would be nice to have an EDC type belt, where I could slap on my War Belt and be armed and loaded in seconds. Well I actually had an old Oakley belt that had Velcro loop hook on the outside. So that solved that problem. Some days when I head out to the range, I just grab the belt and fasten it. I don't have to swap out belts. I could see the value in that for someone deployed who on QRF, needs to kit up quickly. Grab the belt, fasten the cobra buckle and its locked onto your Oakley or whatever pants belt with velcro. .
Moving on to what's on the belt.
1. Overall picture: War belt with Velcro inner belt w/ ITW GTSR buckles. (As shown in the insert pic.) Moving left to right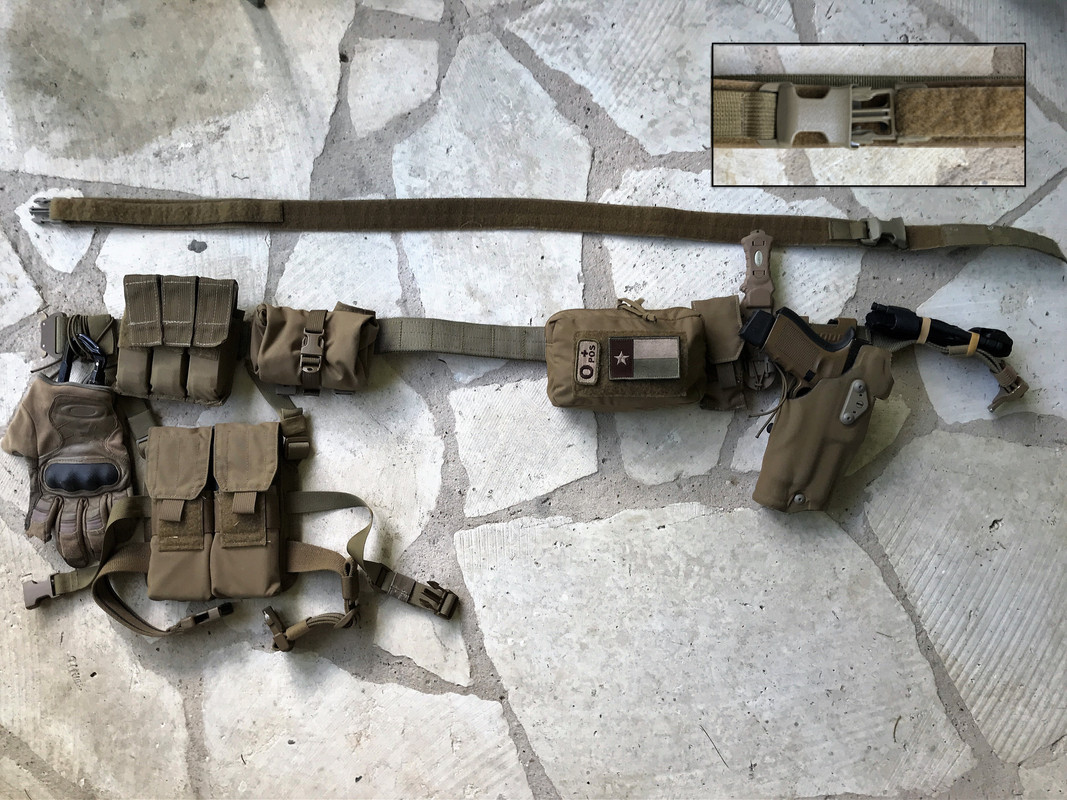 1. Carabiner to secure danglers (gloves, earpro, 6 pack of Shiner or any other purpose)
2. Tactical Tailor triple pistol mag pouch. During the journey from V2 to V4, I tried a few different mag pouches. I kept going back to Tactical Tailor. I did try some open top mag pouches, but found I didn't have a lot of time different in mag changes, with the open top bungee. Also since my Glock mags have a sloped baseplate, the retention cord would often slip off when I was running around. The last pouch I tried was the Emdom 6o4 pouch. They call it the 6o4 pouch because it can hold 6 single stacks or 4 double stacks mags. The problem I ran into was twofold. One, it was a major pain in the ass to get 4 double stack mags loaded. There is a piece of cordura that separates the front and rear mags and I found often that 'divider' would get scrunched up and not allow the mag to be inserted quickly, it was definitely not a one hand operation. Also, at least while new the mags did not release freely in the 6o4. I'm sure over time the fabric will stretch a little, but honestly, it didn't take me that long before I knew this was not the pouch I wanted. I went with the TT 3 mag shingle and never looked back. In spite of the popularity of open top pouches and the high quality pouches like ESSTAC for example I chose to go with what I am most comfortable using and what secured my pouches best. I can fold the flap to the inside on one or two mags if I need fast mag change ability. All three have KYWI inserts and so I can fold the flap in for rapid access and secure flaps later if moving in the dark or double-timing.
3. T3 double M4 pouch on a Haley's Drop Panel. This is a newer HGSI drop panel with the laser cut panel for PALS and incorporates two thigh straps. This was a risky purchase because I normally do not care for drop legs. But this isn't too far down my thigh (About pant pocket level) and the two straps really secure it to my leg and absolutely no flopping around. It works, and it works very well. That's about all I can say. I've done a lot of running drills with this belt on, and really no movement on the sub-load. Normally if I had mag pouches on my kit they would be Tactical Tailor, or ESSTAC, but I couldn't get off the shelf what I wanted. Two single M4 mag pouches in a row. Most double shingles I found were double M4 mags and I did not want 4 fully loaded 30 rd mags on my thigh. I already knew of T3, because I've used some of their gear already, specifcally ifak and GP pouches.T3 because they are one of the few reputable gear companies who make a single row M4 mag in a double pouch shingle config. I had ran some T3 kit before - iFaks and such and knew they were Berry Compliant, owned by veteran. Interesting tidbit about T3, they are actually located on Coronado. Right on post with BUD/S and the West Coast SEAL Team. It thought that was cool and spoke a lot about the company who provides a lot of kit to the military.
4. Tactical Tailor dump pouch/SSE bag w/ shock cord closure - Current state, partial mag pouch, Popcorn and Snickers bar pouch. Zombies violate the DMZ, it's an SSE bag with the shock cord w/ cord-lok closure.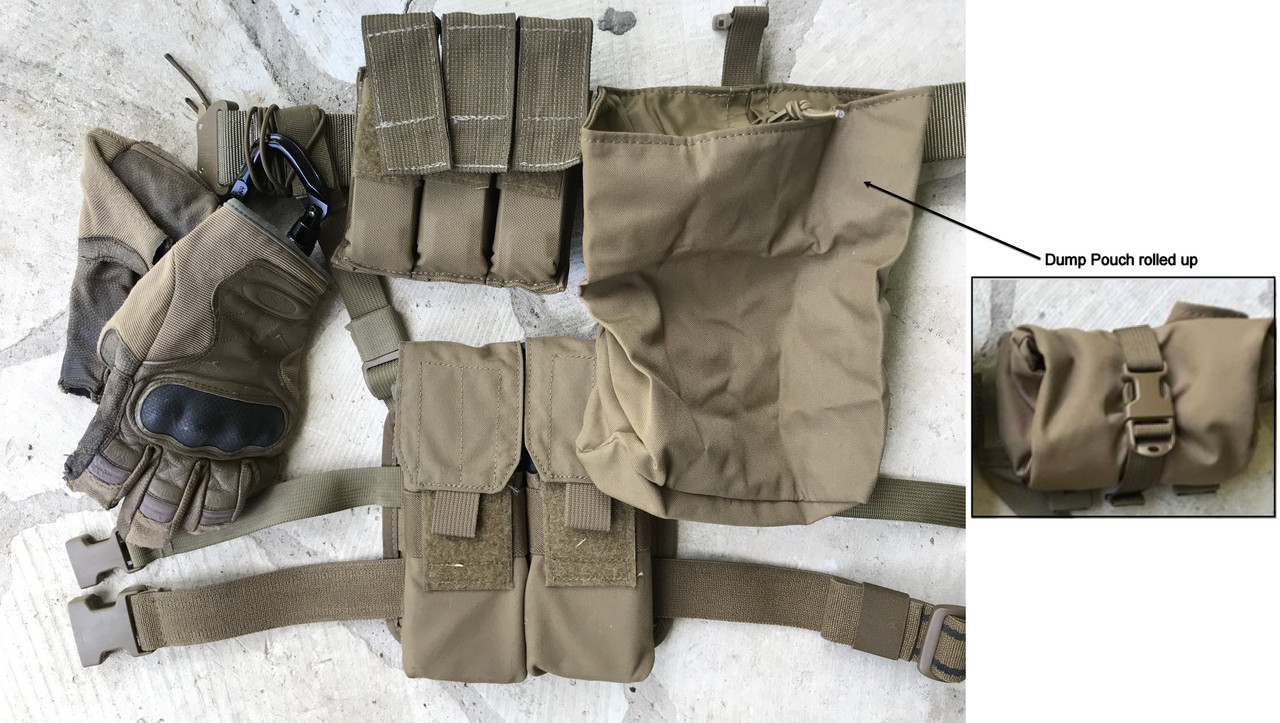 You may wonder why I didn't mount two M4 mag pouches to my waistline, rather than using a sub-load. I always want flexibility and adaptability with my gear. I like that I have plenty of flexibility on my waist to modify and add to my belt as needed. For example, if I needed to add a GP pouch for map section, compass, spare batteries and protein bars, or add a pouch for nods that I do not own, or even beef up with more ammo pouches, or even a more robust ifak/trauma, I have plenty of reachable real estate to make those mods. With the DRG Malice Stabilizers, it's also really easy to move pouches around.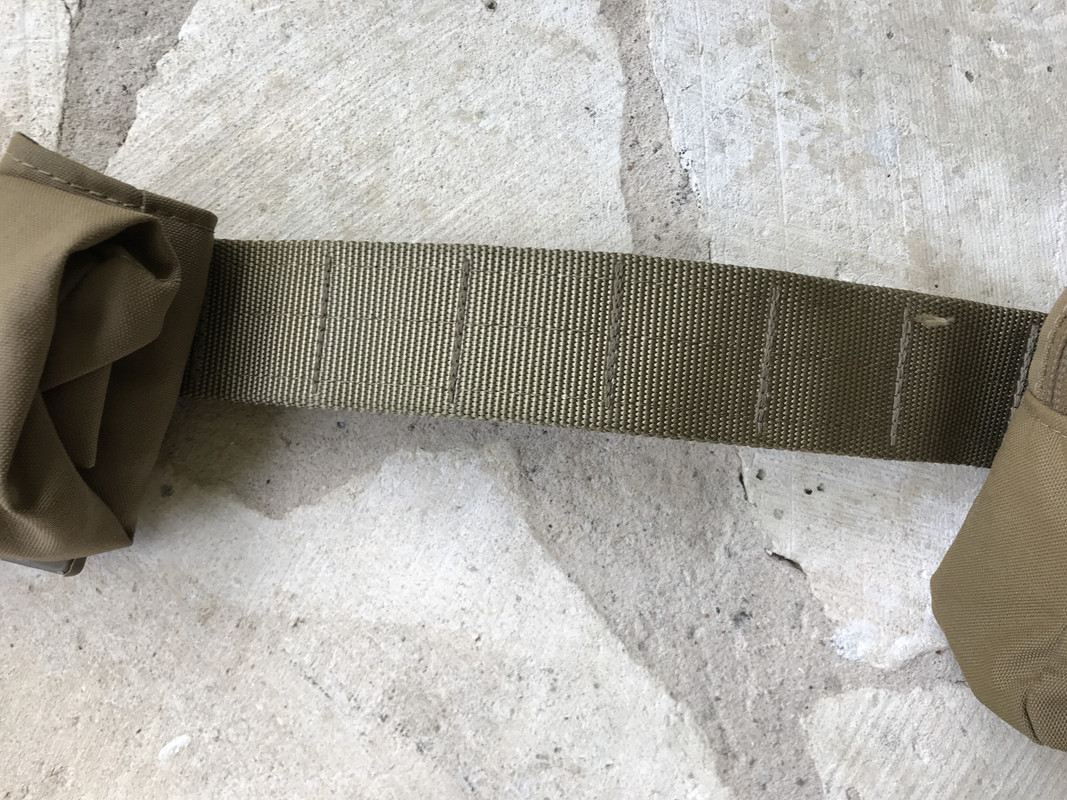 These slots do work to secure Molle straps or malice clips, although pouches w/ straps seem to secure more tightly. To secure my pouches, I used Down Range Gear's Malice Clip Belt Stabilizer to secure my pouches to the belt while using the malice clips that came with the pouch. I think that ESSTAC has a good solution, I've ordered some but as of yet, I have not used them.
Here is my solution for using malice clips with a war belt like I have. The trauma kit has one Down Range Gear malice clip stabilizer and on the right side of the pouch my own implementation using a thick 1" Velcro strap that I managed to get really locked in on itself. It's had some field time, not a lot, but it seems sturdy and cost-wise was far cheaper than anything else. The issue with using malice clips, alone is that they can "roll" down on you so that the clip in slips inside the PALS. With my setup now that doesn't happen. I mainly wanted an alternative to buying an attaching mechanism and wanted to know if it was viable. And...I can always use zip ties, but I want flexibility and modularity.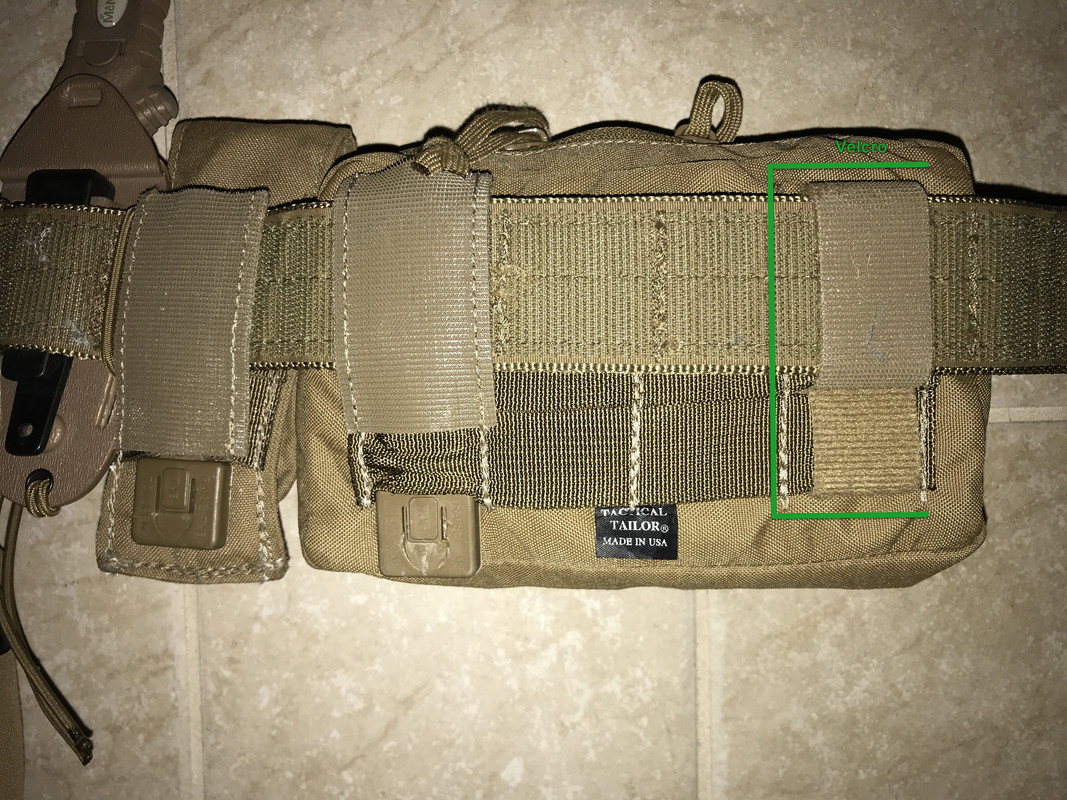 5. Coming around to the backside I have my Tactical Tailor 1H Pouch. The "H" is their horizontal implementation of this pouch. It's designed as a "GP" (General Purpose) pouch, but works just as well as an ifak/trauma pouch. I've got it stocked with the usual chest seals, ACE bandage, plastic tape, blood clotter, NPA, tourniquet and other necessary trauma items. (And a snickers bar)
6. Tactical Tailor Multi-tool Pouch with Leatherman
7. McNet fixed blade. I have several fixed blade knives, for SOG SEAL Pup, to Gerber, to ESEE. I like the McNett because it's compact, it is sharpened and takes and edge and it's really thick and sturdy. It's not really meant for me to get into a knife fight. If I have to pull that thing out to defend myself...well I'm in a whole lotta trouble and things are NOT looking good for the home team. It's more of a tool than stab a guy in the heart. Not that it couldn't do that - but that's just how I think. You guys think that's whack, please square me away. Personally, I do not want to get into a knife fight. I'd personally just prefer a regular fight so I can bite someone's ear or nose off. The McNett has a belt clip, but I used shock cord to further secure the knife.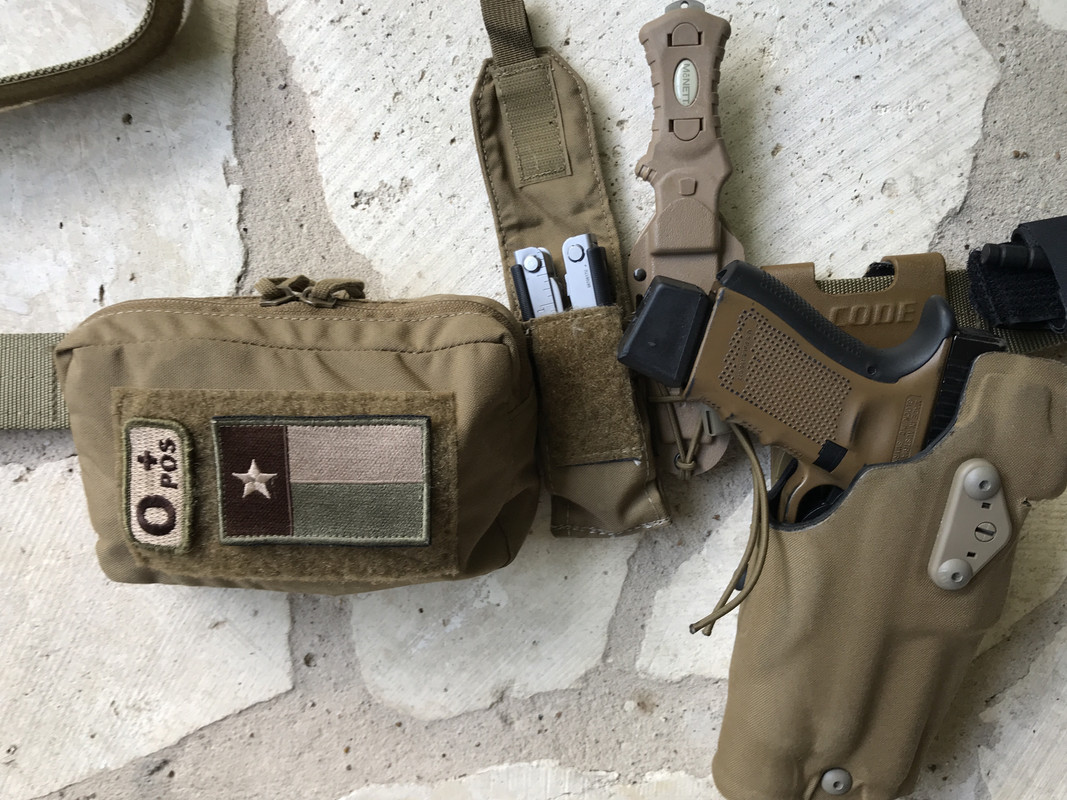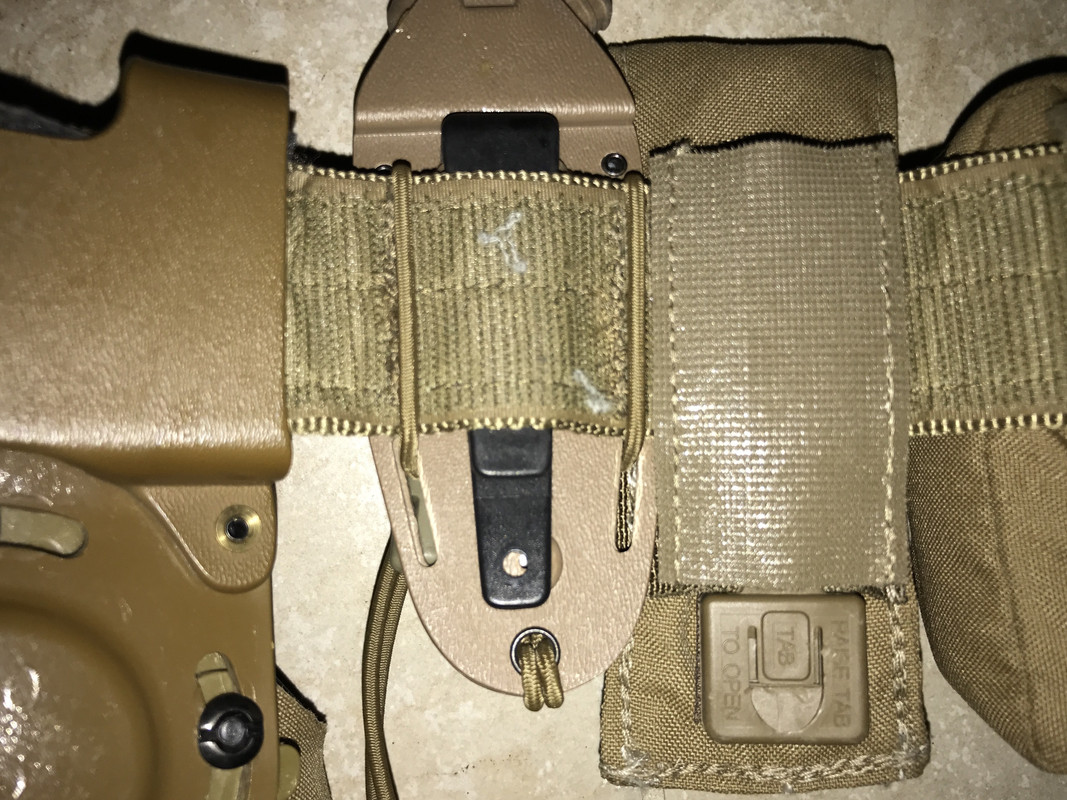 Last and maybe the most important attachment to my War Belt is my holster.
8. Safariland 6354 DO ALS holster in a G-Code RTI Optimal Drop platform. The ALS line of holsters by Safariland are by far my favorite. This is my 3rd. I think they are maybe the best holster in the known universe. I found it easier to develop the muscle memory around actuating the ALS to release the pistol than any other piece of gear I own. Plus weapon retention is excellent. I have the 6354 DO because I have an Trijicon RMR on my Glock. So far there have been no issues with the 6354, I have not had to dremel it down as with earlier releases of this holster. Initially my suppressor level sights drug just a hair, but I believe the holster is broken in better now. Also, when I purchased this holster, I was using a TLR-1HL, but just this past week mounted the newer TLR-7 and am giving that a shot. The RTI Optimal drop is another huge winner. It may sound weird, but while I am ok with that subload on my thigh, I do not light drop leg holsters on my thigh. Just do not like them. This provided the perfect solution. It drops the firearm down enough so the plate carrier or chest rig is not interfering with my draw stroke. I've been very impressed with this line of holsters. On my others, the cordura has worn in places, but is still adhering well.
9. Tourniquet fastened with a couple of parachute rubber bands. I can rip off if needed. I need another TQ that's easy access to my support hand.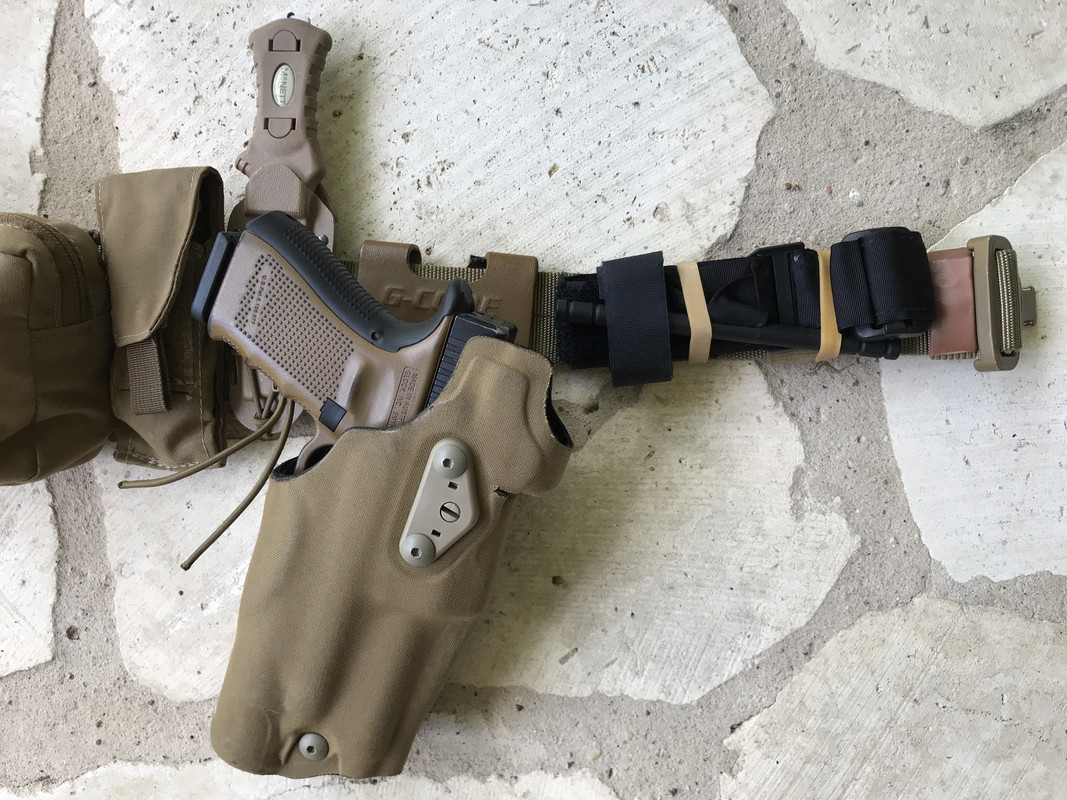 Summary: Overall this set up is working well. It's a relatively lightweight setup - the lightest war belt I've used/built to date. It's been working great so far, primarily training, running drills, that sort of thing. I do work on my muscle memory when I can't get out to the place I train at, but nothing is better than running through the mag changes in a course of fire. I can't think of a complaint about any of it at this point. The holster is very new as I just recently had my slide cut down for a RMR, but it's similar to the previous ALS holster I had. So I've been spending a lot of time dry firing with it. Getting used to the RDS and working on my draw stroke. Then I will put some hard use work at the range, but I fully expect everything to function as designed.
Additional pouches I could use, that I have in my spares bin:
- Nalgene Water Pouch. In my spare kit bin.
- Radio pouch. I have some radio pouches, from a PRC-148 to smaller Baofeng type radios
- GP Pouch. I have a few different GP type pouches. TT makes a multipurpose pouch that mounts well and has a lot of storage but still a low profile. It's an outstanding pouch and I mount them on my Camelbak and usually on my chest rigs.
- Ammo/Smoke pouches. I can add some more AR or pistol, or add a couple of smoke pouches.
I don't have a retention system or a weapon retention system. I'm not an operator flying in a helo or Humvee. So those seemed to be a waste of money.
That's my War Belt. I hope I didn't go into too much detail. I can get a little carried away with this topic, so hopefully I'm at least operating within the spirit of the letter.
p.s. Upfront apologies for grammatical errors, in case there are some of "those" here.
Comments? Questions? Suggestions?
Use universal mag pouches instead so I could use the war belt with a .308? (Just in case no one says anything.)