Far too long without a post in here. Not a family member but a coworker and friend.
Capt Joe G. was a B-47 and KC-135 pilot for nine years before being sent to Vietnam on his second tour. Going from high-altitude strategic aircraft to the other end of the spectrum, Joe flew O-1s as a forward air controller for a year. He was stationed in the delta region of South Vietnam at Canh Tho supporting a small SF base (5th Group). He put together his memoirs a few years back, written from his diary and with thoughts from today added.
This was taken by an observer from the back seat of his O-1. Normally he flew alone but would take up members from the SF unit he supported as well as the occasional ARVN officer. The only armor on the aircraft was a sixteen-inch square of thick steel he sat on. Other than 2.75 WP rockets for target marking his only armament was the .38 revolver and CAR-15 he carried in the cockpit.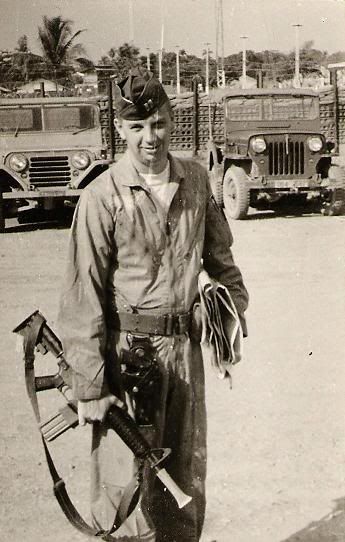 I like this picture particularly. Lots of interesting things in it when you study it. The odd muzzle cover is the plastic tube that the spark plugs for the O-1 came in... seems to work pretty well. I'm not sure if he's about to have a magazine malfunction with a 20-rounder or if there was some type of early straight 30-round magazine. He can't remember what the deal was with that.
Joe is an interesting guy to talk to, and has many, many interesting photos of his time over there - airstrikes in progress as well as Ranch Hand defoliation flights, all taken from the vantage point of a FAC. He really only talks about his experiences to other vets, just the kind of guy he is.