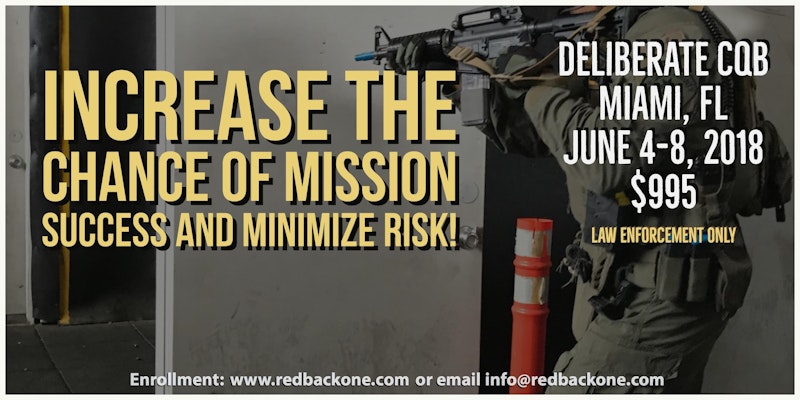 Deliberate CQB
Open to Law Enforcement Only
Dates: June 4-8, 2018
Location: Miami, FL
Venue: DA1
Cost: $995
Enrollment: www.redbackone.com
The 5-Day /40hr Deliberate CQB course of instruction has been established to train qualified SWAT personnel in the tactics, techniques to conduct slow and deliberate close quarters battle. This course will provide the opportunity for critical skill development at the individual and team level to reduce risk to officers when conducting high-risk entries by employing leading edge techniques procedures in deliberate close quarters battle.
This is a UTM/SIM only course (non live fire) and is open to full time Law Enforcement Officers assigned to SWAT only. Training will be conducted at the DA1 Facility located in downtown Miami, FL.
Enroll today to secure your spot or you may email info@redbackone.com for full details and to be invoiced directly. If you need to place a deposit of 1/2 the tuition at this time, you may do so by emailing us to work out arrangements.
COURSE BOOKINGS:
If you would like to book this course for your department or send personnel to this course, please contact our Sales & Training Coordinator via the email below to discuss your departmental requirements.
__________________________________
Redback One
Email: Info@redbackone.com
Phone: (757) 819-6878
__________________________________
Redback One is a U.S company registered with the System for Award Management (SAM).
DUNS: 962690934
CAGE: 6LAB9