I was going to run a review in Mac's format but all I have access to at the moment is an iPad and it would be difficult, but I finally took some important pics of the pack fully loaded with items from my "must have" capabilities list for an assault pack found here: https://www.lightfighter.net/to...-3rd-line-gray-areas
I won't bore anyone with a rundown of the features of this 500 denier, detachable strap and direct-to-armor mountable pack. There's a video for that, found here: https://m.youtube.com/watch?v=xKwyyHyRXaY
I picked mine up for something like $124.00, direct from AWS. Coyote is the lowest price and the website (http://www.awsin.com/proddetail.asp?prod=50657) says that these packs are an overrun item and "won't last long". There is an optional special strap kit which allows the user to attach it to an armor carrier and flip it to the front while leaving it attached, but I currently do not have a need for that feature. What I needed was a hydration carrier (let's remember what the Eagle Yote started out as) for dismounted use, sans armor, that I could plus up as required. I have a range of other hydration rigs, "assault packs", 3-day packs, etc. that were either not up to carrying more than water and a few additional items, or had a lot of excess bag to go around when it wasn't stuffed to the gills with gear (hello RAID). The Eagle Yote has been unobtainable for some time, so I stopped looking until someone mentioned the AWS Inc. option.
I prefer to be able to scale up and bolt on pouches as required, to perform certain tasks and carry mission-specific equipment, and the AWS "Yote" does that very well.
I'm never going to carry a helmet in the detachable beavertail, but I could end up carrying an odd-shaped item. From the assault pack thread listed above, we spent a lot of time talking about the roles an assault pack needs to fill, and when you look at a requirement to move ammunition up to an ATK/SBF position, the beavertail comes in handy (that is a 200-rd 7.62mm ammo can tucked in there and I did so do demo the possibilities).
One of my requirements for the optimal assault pack is an ability to carry a leader's tool, 100 rds of belted ammo, an optic, a biometric device, an APERS mine, etc. After I loaded the Source 3L bladder, I stuffed the bottom of the pack with a USMC lightweight Gortex wet weather top, then placed a leader's notebook case atop that.
The most significant improvement that AWS made over the Eagle Yote are the 3 colums of PALS on the sides of the pack. I attached the 1L bottle pouches you see in the pics, and those could easily be replaced by M4 double, aerial signaling device, suppressor, optic, IFAK, vertical ute, etc. pouches to expand the cube carried. As shown the pack had 5L aboard. Water is a critical lifeline and this amount is roughly half the recommended intake amount for arid, hot weather climates across a 24-hour period. Go short on water and your performance degrades. Then you become a liability. End of story.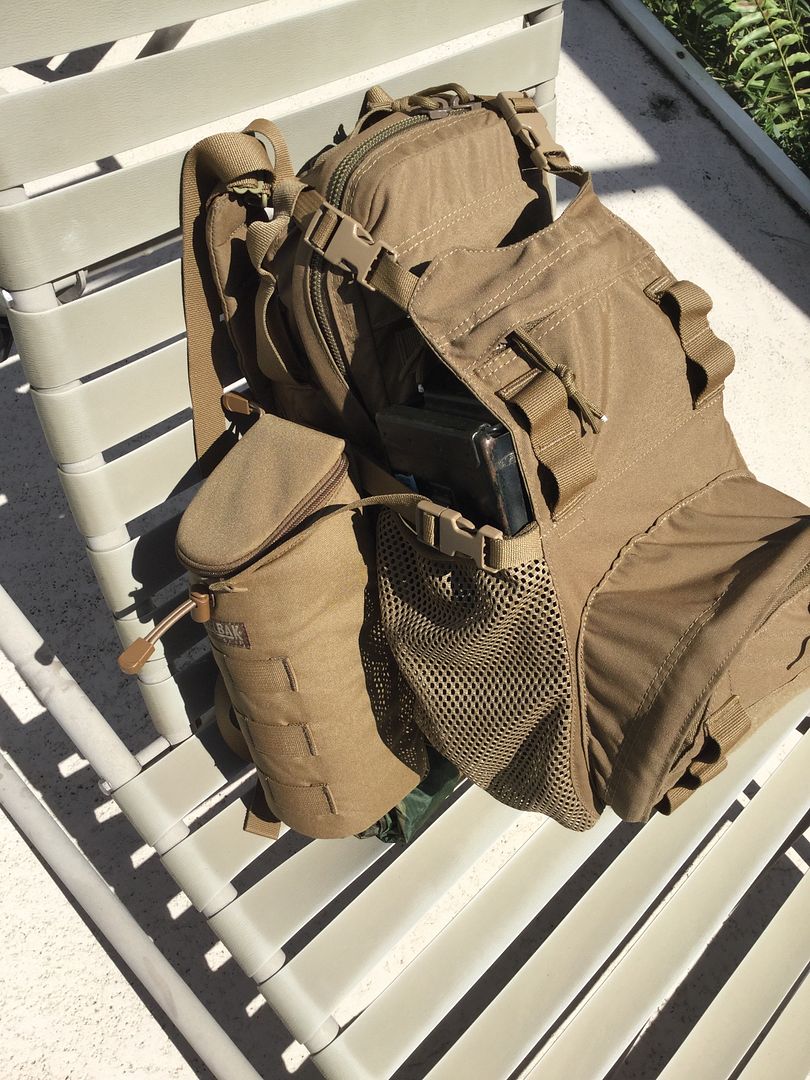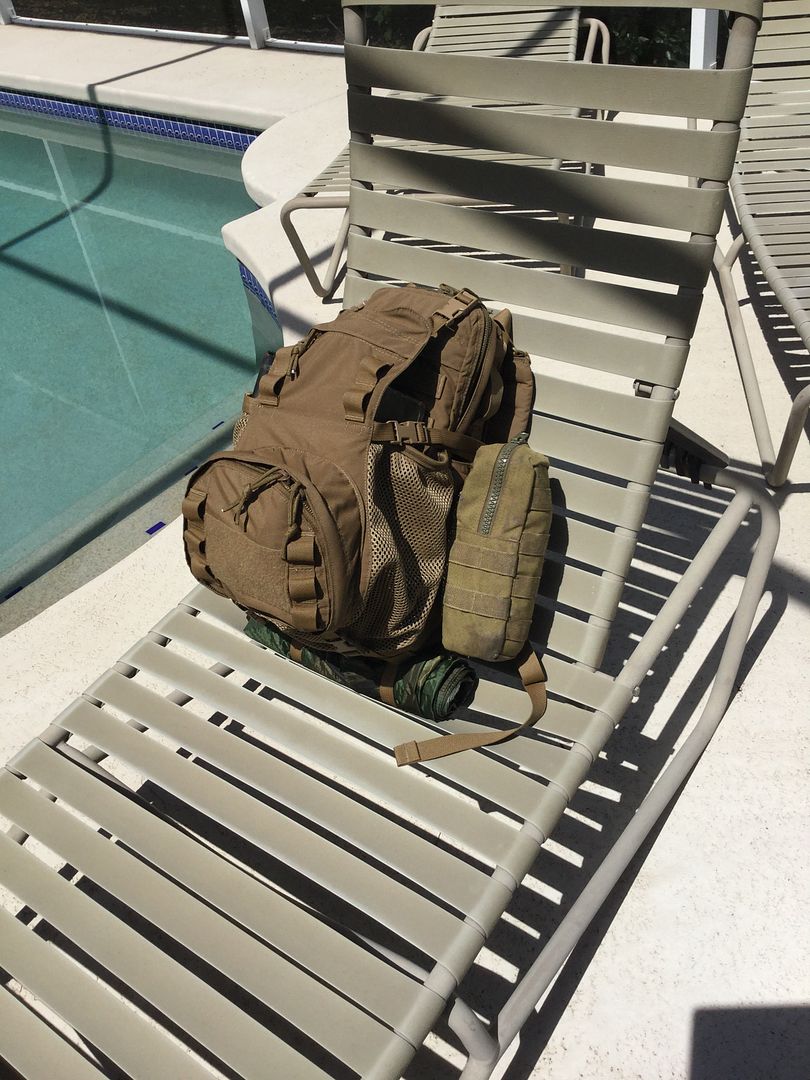 Behind the side PALS arrays are flat pockets capable of holding 5.56 or 7.62 magazines, pyro, det charges, etc. I neglected to take the 2x PMAGs out to display in the final loadout tally, but they were accessible while the pack was fully loaded.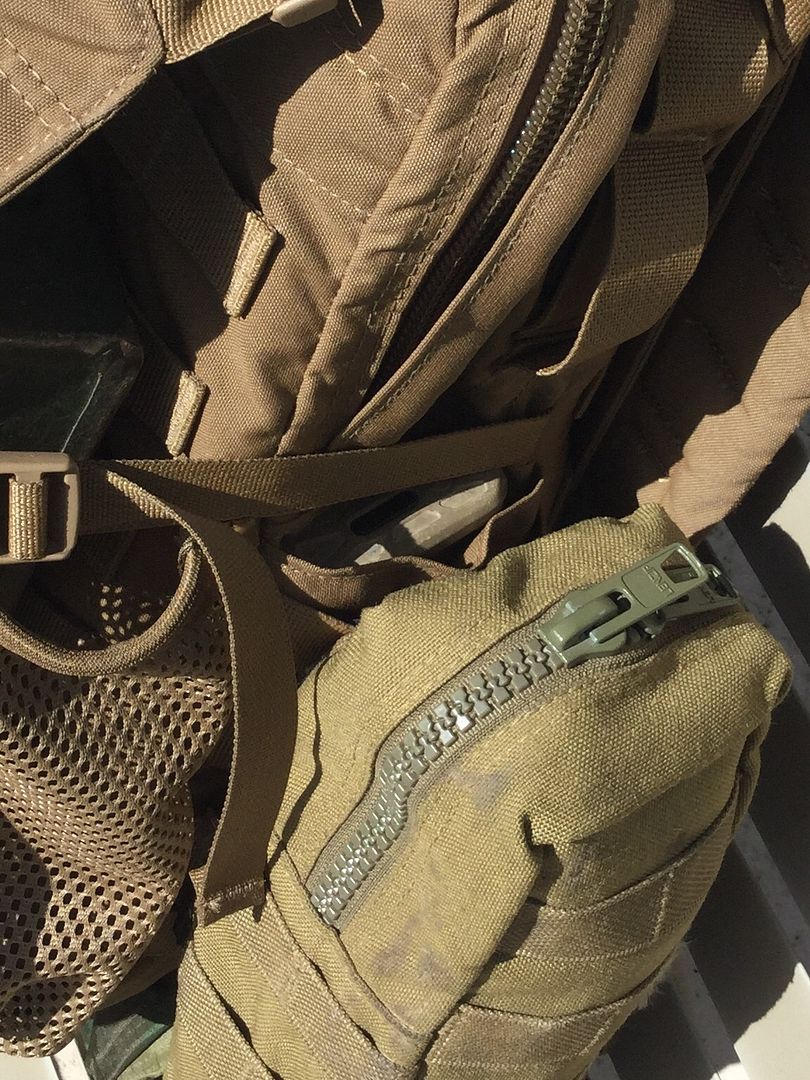 There was one irregularity in the stitching, at the top row of the PALS array on the right side of the pack. For whatever reason, there is a single strip of tape there, without vertical stitching to the appropriate MOLLE dimensions.
The fastex buckles on the beavertail straps have a cheap feel to them, but I suspect that's just a function of their size. I'm going to pick up a repair kit of split buckles and toss them in a pocket for the future.
The map, pistol mag, TQ, boo-boo kit, camera, and signalling panel were easily tucked away in the pouch on the face of the beavertail. The other two slit pouches will really only be able to hold flat, non-crushable items if the pack is fully loaded.
I used this pack all over my last vacation spot, carrying a full load of water, wet weather tops, and food items. I am going to work it over an armor carrier, but I already believe that if properly balanced and not overloaded, the pack will fit fairly comfortably. You can't defeat physics though, and as with all packs and armor, discomfort of some degree is inevitable.
There are complaints out there about the pack not having any back mesh or bollards, and therefore inducing sweat. Yeah, I get that, and if you are going to run this for A/S or recreation, that may be relevant to you.
I'd take this pack into a dismounted fight, as an example of a true assault pack, any day.